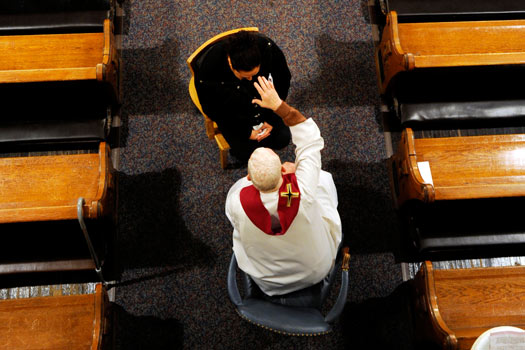 It happened recently at our parish mission, and it was something I'll never forget.
The mission had an extraordinary turnout: what started with a couple hundred stalwart souls on Monday grew night after night, until the closing liturgy had a packed church of, I'd guess, close to a thousand people.
But the most memorable of the four nights, for me, was a penance service on the third night.  The presiding priest, who gave the mission, explained it simply.  There were going to be eight stations set up around the church, with a priest at each spot.  (It was out in the open, no confessionals.)  We were to approach any one of the eight stations, tell the priest how long it had been since our last confession, then confess our sins.  He would offer absolution and then we would move on.  In anticipation of this, the presiding priest had all of us pray the Act of Contrition together, and he pronounced our penance in advance.  (It obviously had a big effect on me; I can't remember now what the penance was.  But it struck me at the time as being both creative and meaningful.)
Anyway, the entire process took a little over a half an hour, accompanied by a couple dozen hymns that we sang together.  But this is what struck me: after all the people had been to confession, the final ones to go were…the priests.  Each priest went to another of the priests present, confessed his sins and received absolution.
I found that unexpected moment powerful, and moving, and inspiring. I couldn't remember ever seeing a priest go to confession (or at least, seeing someone I recognized as a priest…maybe they go incognito?).  The only time priests talk about confession is when they want to encourage us to do it.   But that simple act — seeing a penitent priest, confessing his sins to another priest — spoke volumes.  There was grace, and humility, and humanity.
It made me think: maybe if more people saw their priests in line at the confessional, they'd be more inclined to join them.