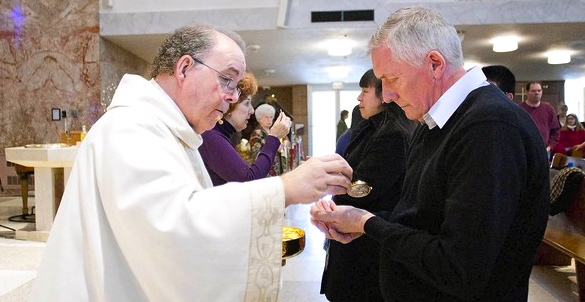 An issue that is often overlooked in many parishes is now getting renewed attention — thanks, in part, to a deacon candidate from Chicago:
After Stuart Heyes was diagnosed with celiac disease last year, he learned that a gluten-free diet would prevent the pain he experienced after meals, which he described as "like the food is having a battle in your gut."

But his diagnosis threatened to create a battle in his soul: The hosts used for Holy Communion at most churches are made with wheat, which contains gluten.

Now, however, when the 62-year-old Burr Ridge man and other gluten-intolerant parishioners step up for Communion at St. Cletus Catholic Church in La Grange, they can receive special hosts with very small amounts of gluten.

The low-gluten hosts and gluten-free hosts served at some Christian churches are a blessing for those with celiac disease. In the past, they have had to stay in their seats while their peers received the sacrament, or perhaps they skipped the host and took only the wine.

According to the University of Chicago Celiac Disease Center, the autoimmune condition affects 1 in 100 Americans and can strike at any stage of life. When these people eat foods containing gluten, which is found in wheat and many other grains, it creates a toxic reaction in their bodies, damaging their small intestine and preventing proper absorption of food.

In many cases, individual worshipers are buying Communion hosts, which are consecrated during services and then served to them during Communion. Fifty percent of those making purchases online from Gluten-free Hosts are individuals, says co-owner Lucy DeLaat, whose business sells zero-gluten and low-gluten hosts.

But Chicagoland churches have been getting up to speed. And Roman Catholic parishes, which adhere to the  Vatican's guidelines requiring the presence of wheat in Communion hosts, are being prompted to address the issue.

"Over the last number of years, there has been a rise in awareness of people with gluten intolerance and a subsequent rise in parishes asking us about low-gluten hosts and the guidelines for their use," says Todd Williamson, director for the Office for Divine Worship with the Archdiocese of Chicago…

…"The problem is alienating Catholics who want to participate in Communion," said DeLaat, who sells low-gluten hosts that adhere to Vatican policy about wheat to Roman Catholic parishes and potato-based, zero-gluten hosts to churches of some other Christian denominations that also serve Communion. "This is about churches preventing alienation."

Heyes receives the special hosts when he attends services three times a week, and as a deacon-in-training, he assists the priests at St. Cletus and personally prepares the hosts before Mass.

"It's easy for me because I'm assisting the process," he says.

For the past year, he has ensured that the low-gluten wafers are handled separately from the more traditional hosts, lest they be cross-contaminated. Under Heyes' watch, they are placed in a pyx — a metallic, ceremonial chamber — that is placed alongside the regular hosts that the priest consecrates during the Mass.