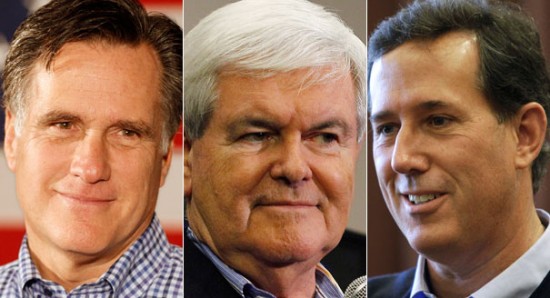 It's an interesting twist this election year, and one observer wonders why it's happening:
For a party that was once defined by a White Anglo-Saxon Protestant heritage, this is a remarkable turnaround. Not once in the GOP's history has it nominated a Catholic and it has certainly never considered another Mormon. The South Carolina GOP is notably dominated by mainline evangelical Christians – the kind of people who often think Mormons are occultists and Catholics worship statues. When Pat Buchanan – the last serious Catholic GOP contender – campaigned there in 1996, he was frustrated to find that voters were as keen to talk about Marian idolatry as they were the national debt.

So why, 16 years later, are South Carolina's Republicans flirting with two Catholics and a Mormon? It used to be that the Democratic Party was the natural home for non-WASP Christians. Until the 1960s, it was dismissed by snooty Republicans as the party of "rum, Rome and rebellion" – drinkers, Catholics and Southern confederates. But that changed when the Democrats embraced the lifestyle liberalism of the 1970s. Many ethnic Catholics remained within the fold, but the more faithful were driven into the welcoming arms of the prolife GOP. To this day, the electoral divide between Democratic and Republican Catholics is determined by how often they go to church.

That explains why larger and larger numbers of religious Catholics vote Republican, but why are Protestants also prepared to endorse Catholic conservative leaders like Speaker of the House John Boehner, Tea Party senator Marco Rubio, Santorum and Gingrich?
Read on for some answers.