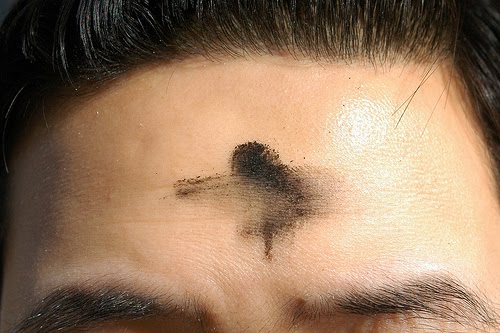 Click the green tab below to hear this homily as it was delivered at 8 a.m. Mass.
[audio:http://wp.patheos.com.s3.amazonaws.com/blogs/deaconsbench/files/2012/02/HOMILY022212.mp3|titles=HOMILY022212]
When I was in high school, I had an English teacher by the name of Mrs. Comberiatti.   She was a quiet, tiny little woman, very young, but surprisingly strict.  I spent most of the 10th grade being terrified of her.  But all that changed one day, when she came into class wearing a big button on her lapel.  Thirty-five years later, I don't remember much of what she taught us about "The Scarlett Letter" or "A Tale of Two Cities." But I do remember that button.  It said:
"Please be patient.  God isn't finished with me yet."
Whether we realize it or not, today we proclaim that same message.
We won't do it with a button on a lapel…but with ashes on our brow.
The ashes we wear announce to the world this plain fact: we are sinners. They tell all who see us that we are beginning 40 days of prayer, and repentance, and sacrifice — that we are Catholic Christians seeking somehow to reconcile ourselves with God.
These ashes say that we are works in progress.
They say: please be patient.  God isn't finished with me yet.
He isn't finished with any of us.
That is the great wonder and consolation of Lent.
As we enter this holy season we should approach it with sobriety and seriousness.  But we shouldn't mistake that seriousness for solemnity.
The gospel today reminds us: "Do not look gloomy…anoint your head and wash your face."   I'd take that one step further: add to this season of penance and prayer a sense of possibility.  Make it an occasion for hope.
And yes, even, joy.
Last week in Rome, Cardinal Timothy Dolan delivered a beautiful address to the pope and the college of cardinals.  He quoted the writer Leon Bloy, who said, "Joy is the most infallible sign of the presence of God."  If we want to be – as St. Paul put it in the letter we just heard – "ambassadors for Christ," if we want to bring others the presence of God, we need to be emissaries of joy.
Even during Lent.  Especially during Lent.
Cardinal Dolan told the story of a man dying of AIDS at a hospice in Washington that was run by the Missionaries of Charity.  The man wanted to be baptized.  When the priest asked for some expression of faith, the dying man whispered, "All I know is that I'm unhappy, and these sisters are very happy, even when I curse them and spit on them. Yesterday I finally asked them why they were so happy. They replied 'Jesus.'"  And the man explained: "I want this Jesus so I can finally be happy. "
Those sisters gave that dying man something immeasurable.  Even amid suffering and hardship in that hospice, could anyone deny that they were ambassadors for Christ?   How many of us would hope and pray to affect the lives of others the way they touched the life of that one man?
We think of Lent as a time for giving up.  I say this every year, but it is true: "Giving up" begins with "giving." Give something of yourself to someone else.
Begin by giving joy.
And if you truly want to give up something, don't just settle for chocolate or hamburgers or cheesecake – though right about now, I think, we'd all like to lose that weight we gained over Christmas.
Go further.  Go deeper.  Try giving up something really hard.
Give up cynicism.  Or jealousy.  Or backstabbing.
Give up gossip.  Give up regrets for choices you never made or paths your never took.  Give up fighting God's will for you.  Give up always forgetting that the most famous prayer in the world doesn't include the phrase "My will be done," but "thy will be done."
Need help?  Try this: give up whatever fear or anxiety is keeping you from going to confession, and just go.
Give up being too busy to pray, or being too worried to hope.  As they say in AA: let go.  And let God.
There is no better time for doing that than now.  As the scripture tells us today: "Now is an acceptable time."
The point of all this isn't just to make others feel better – or make ourselves feel holy.  It's to draw us closer to The One who makes everything, including our redemption, possible.  And we do it now for good reason.  Lent forces us to admit something we prefer to ignore: we don't have forever.  So, throughout the day, look in the mirror.  You'll see reflected back this inconvenient truth: we are dust.  We have been marked.  The clock is ticking.  And there is work to do.
It begins here, and now.  And it will take the rest of our lives to do.  But nothing is more important.  It is the great work of our salvation.  The journey of Lent is one more leg on our journey back to the Father — a  journey of struggle, and sacrifice.
But a journey, ultimately, of joy.
As you "remember that you are dust, and to dust you will return," remember that, too.
And as we embark on that journey, and begin this 40 day adventure, remember one more thing.
Be patient.  With yourselves.  And with everyone else.
Because God isn't finished with any of us yet.