His name was Ramesh Raju.
He was a 40-year-old building contractor, husband and father who worked in Sri Lanka. Last Easter Sunday, Ramesh and his family arrived at their church to celebrate Easter.
He was in the church's courtyard, when he noticed a man he didn't recognize about to enter the church, wearing a large backpack.
He stopped him and asked what was in the bag. The man told him it held a video camera.
Ramesh told him that wasn't allowed and he asked him to leave.
They were the last words he spoke.
Seconds later, the stranger detonated a bomb in the backpack.
Ramesh Raju died instantly.  So did several children from the Sunday school who were in the courtyard. But investigators say it could have been far worse. Ramesh had kept the man from entering the packed church — he likely saved hundreds of lives.
As we near the end of the year, magazines and newspapers and cable TV shows will be reporting on the Person of the Year, the Story of the Year, the Trend of the Year.
How many will remember Sri Lanka or know the name of Ramesh Raju?
It was horrific: that Easter Sunday, terrorists linked to ISIS set off six bombs that killed 259 people and injured 500. Three of the bomb sites were in churches, two of which were Catholic. The message and intent were unmistakable. This was a coordinated attack.
And the primary targets, the majority of the victims, on Easter Sunday, were Christians.
Attention must be paid.
While the end of the calendar year brings us news stories about the great events of our time, the end of the liturgical year brings us this Gospel, and a reminder that the greatest events of history are yet to be. All we see and know will come to an end. We await Christ the King, whose triumph we will celebrate next Sunday.
But this Sunday, Jesus mentions a subject that cries out for our prayers and our attention — especially in a year that gave us the horror of Sri Lanka.
"They will seize and persecute you," Jesus tells his followers. "And they will put some of you to death."
It is a haunting echo of something we heard at the beginning of this month, on the feast of All Saints, when we encountered these words from the Beatitudes:
Blessed are they who are persecuted for the sake of righteousness, for theirs is the Kingdom of heaven.
We cannot forget: Ours is a faith inextricably nailed to the wood of the cross. The Christian life is rooted in persecution, and suffering, and even death.
Sri Lanka is just one extreme example. But it isn't the only one. It is happening in India, northeast Africa, Saudi Arabia, China.
Last year, Pope Francis said the world often looks the other way when it comes to Christian persecution.
He added: "In addition to their martyrdom of blood, there is also their 'white martyrdom', such as that which occurs in democratic countries when freedom of religion is limited. And this is the everyday white martyrdom of the Church in those places."
Just two weeks ago, celebrating Mass in the catacombs for the feast of All Souls, the Holy Father went further, noting that more Christians are being persecuted and killed today than in the first days of the Church.
We live, even now, in an age of martyrs.
Attention must be paid.
In our own country, of course, the persecution is often more insidious, cloaked in quiet bigotry.
Our great grandparents saw it in New York City shop windows, where "Help Wanted" signs added the phrase, "No Irish Need Apply" — which meant, of course, no Catholics.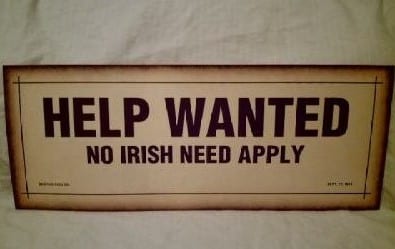 We see it in our own day — and saw it vividly just weeks ago, with the decision in this "city of immigrants" to deny an honor to a great champion of immigrants: America's first saint, Mother Cabrini.
Bigotry lives on.
But so does courage. And resilience. And hope.
This Gospel reminds us that not only will the temporal things of this world come to an end — like costly stones adorning the temple — but so will hardship and suffering, hatred and persecution. Something better awaits us.
"By your perseverance you will secure your lives."
The readings these last few weeks has shown us the way.
Think of the tireless perseverance of the widow demanding justice from the judge.
The unstoppable perseverance of Zacchaeus, who didn't let his height hinder him and climbed a tree to see the Lord.
Or the humble perseverance of the tax collector, who prayed quite simply for mercy.
And then there is, of course, the courageous, unbending perseverance of the persecuted Christians, and the suffering people of Sri Lanka.
For weeks after the Easter attack, public Mass was forbidden, because authorities feared another church attack. The faithful had to watch Mass on television at home.
When they were finally permitted to attend Mass, hundreds of people streamed to a local church, St. Joseph's, under armed guards, past numerous checkpoints.
They risked their lives to do what we do in this country every day, what we are doing even now. They wanted to go to Mass and receive our Lord in the Eucharist.
But that first Mass they attended was different — and not just because they could worship in public.
It was a Mass for the ordination of a priest.
It was a moment for a new beginning, a time for gratitude and rejoicing.
"People wanted to do this," one priest told the Associated Press. He mentioned that the Muslims, Hindus and Christians in the community were all united — bound together in their fear, their grief, and most importantly, in their hopes for peace.
"We are all the same," he explained. "All of our blood is red."
This month, we have been praying for our beloved dead. We will do it again in a few moments. I would ask this Sunday that you add another intention in your hearts:
Pray for persecuted Christians. Those who are suffering for the faith. Those who have given their lives for it.
Pray for all the Ramesh Rajus of the world.
Pray that the world does not forget them.
Attention must be paid.
As this liturgical year draws to a close, and we turn out eyes toward a still-distant star, awaiting the Prince of Peace, pray that we may follow Christ's call and persevere.
May we persevere as people of fidelity, people of courage, people of peace.