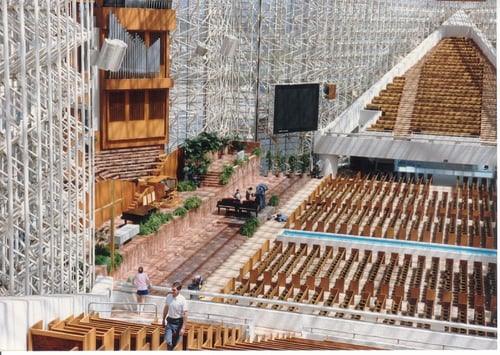 It's a question a lot of people are pondering these days, and Terry Mattingly chatted recently with a leading church architect who's given it some serious attention:
"It would be hard to imagine a more symbolic project than this one," said Matthew Alderman, a graduate of the University of Notre Dame's classical design program and an architect at Cram and Ferguson Architects in Concord, Mass. The firm specializes in traditional church designs.

"What we are going to see at the Crystal Cathedral is sort of like a collision between the therapeutic American Protestantism of the television age with all of the symbolism, art and ancient traditions of the Catholic Church and its worship."

At this point, the Diocese of Orange has not taken formal steps to hire an architect and the Crystal Cathedral congregation has three years to find a new home. Acting on his own, Alderman sketched some possible changes to illustrate a piece for an Anglican periodical called "The Living Church."
In his essay, Alderman notes:
Liturgically, the building must be transformed from an auditorium into a church. The structure is laid out on a cruciform plan, but its principal axis lies within the short "transept" arms. The interior should be reoriented to follow the long axis to give a sense of procession. Sufficient space should be found for the sanctuary to avoid the broad, shallow appearance of a stage. The theatre-like upper balconies should be played down visually. The old choir platform and pulpit area in one transept should be screened off to form a raised choir area; below, there would be space for a daily Mass chapel, shrines, and a baptistery — the little devotional nooks and crannies that usually give so much life to a cathedral, and which have no place in a meetinghouse.

This action will also serve to create an explicitly defined nave, which in turn will lead the eye more easily toward the chancel. A large, straightforward retablo will do much to terminate the processional axis; thes pace behind could be converted into an adoration chapel or sacristy space. A baldachin in a spare modern style might also be suitable. The altar should be prominent, raised, and of a noble material. Other liturgical fittings such as clergy stalls and the bishop's cathedra should be designed to create a high implied sill below the church's glass walls, transforming the interior from a glass envelope to a discrete space. Further definition can be achieved by a "ceiling" of colorful translucent hangings to mediate between the exterior glass and the interior.
Alderman has some rough sketches he's drawn up.  Check 'em out. It's going to be interesting — to say the least — to see what happens.