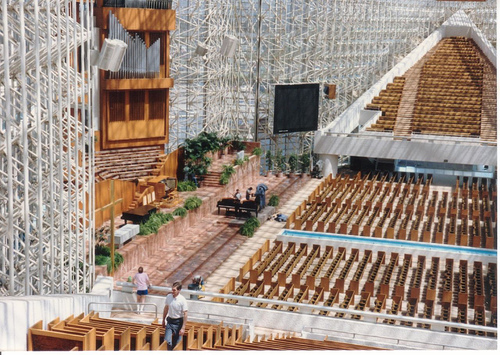 Or, at least, legally it is.  It's now owned by the Catholic Church.  Details:
The Crystal Cathedral, one of the nation's best-known Protestant churches, is now owned by the Roman Catholic Diocese of Orange.

Escrow closed Friday afternoon on the $57.5 million court-ordered sale, the diocese said.

The congregation led by Robert H. Schuller and his family can continue to worship in the landmark church for three years under a lease with the diocese.

But when the congregation leaves, the cathedral — for three decades the place where Schuller preached about "possibility thinking" and angels soared on wires in made-for-Hollywood Christmas pageants — will become the spiritual home for 1.2 million Orange County Catholics.

And it will acquire a new name. Bishop Tod Brown said he will ask members of the diocese to suggest the name.

His only condition: "It has to be something dealing with Christ."

Brown turned 75 last November and, as required, submitted his resignation to Pope Benedict XVI. He has been trying for years to build a cathedral for the diocese. The chance to acquire one – an architectural landmark – at a bargain price came more or less by chance.

"Our God is a God of surprises," Brown said, and "certainly the biggest surprise I've ever received from God is the Crystal Cathedral."

The diocese has used Holy Family Church in Orange as its cathedral since its division from the Los Angeles archdiocese in 1976. It purchased a cathedral site in south Santa Ana, now used by Christ Our Savior Church, about eight years ago.

Congregation insiders, including Senior Pastor Sheila Schuller Coleman, Schuller's daughter, tried to derail the sale to the diocese last week. They claimed the congregation had a 99-year lease with bankrupt Crystal Cathedral Ministries, which had agreed to the cathedral's sale in bankruptcy court.

But no copy of the lease could be found. So on Monday U.S. Bankruptcy Judge Robert Kwan ordered the sale to go forward.
Any suggestions for a new name?