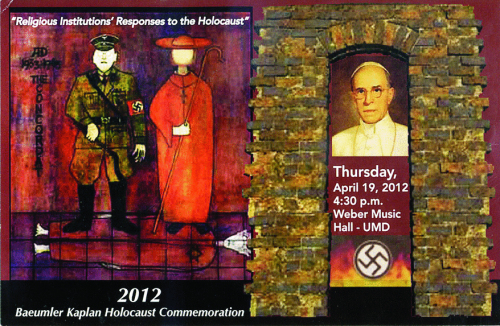 The play in question is often blamed for popularizing the notion that Pius XII was sympathetic to the Nazis.   Now it's receiving a rare staging at a college in Minnesota:
A controversial play scheduled at UMD next week critical of Pope Pius XII for not doing enough to stop the Holocaust has raised the ire of some local Catholics who are calling the event "hate speech."

The 1963 play "The Deputy" is part of the 19th annual Baeumler Kaplan Holocaust Commemoration held at the University of Minnesota Duluth to raise awareness of the persecution of Jews and others by the Nazis before and during World War II.

Fr. Richard Kunst, a Duluth priest and papal historian, said he spoke with UMD Chancellor Lendley Black briefly Monday and asked him to cancel the play. Other Catholics also have contacted UMD.

In a statement to the News Tribune, Black said the performance of "The Deputy" will go on as scheduled, citing academic freedom.

"Freedom of expression and constructive debate and discussion are a cornerstone for UMD and other public universities," he wrote in an e-mail. "Activities and events such as the Baeumler Kaplan lecture series, which is now in its 20th year, work to inform people, foster broad discussion, and create understanding.

"The events of the Baeumler Kaplan lecture series, including the staging of part of the play 'The Deputy,' will continue as planned, and we look forward to hearing diverse perspectives and involvement by the broader community during the talk back that is being held after the performance."

The theme of this year's week-long series of events is "Religious Institutions' Response to the Holocaust,'' and it includes discussions of several religious groups' efforts to save Jews during that time. The UMD events include a performance of one act of "The Deputy,'' written by German playwright Rolf Hochhuth, which claims the pope turned a blind eye to the slaughter of Jews by the Nazis.

But it's not just the play that's caused the upset. The postcard invitation mailed out for the Baeumler Kaplan events depicts a faceless bishop and a Nazi officer standing on a Holocaust victim on one half. It's an image of the painting "The Concordat" by Fritz Hirschberger, a Holocaust survivor critical of Cardinal Pacelli, who would later become Pope Pius XII, for his negotiation of the 1933 "Concordat'' agreement with Hitler that outlined which religious freedoms would be allowed in Nazi Germany.

The other half of the postcard shows an image of Pope Pius XII above a death camp crematorium.

Kunst called the play and the postcard "nothing more than hate speech against Pope Pius XII and Catholics.''

"All of the allegations raised in this play have been debunked by scholars. … This has little or nothing to do with history and more to do with attacking the church,'' Kunst told the News Tribune.