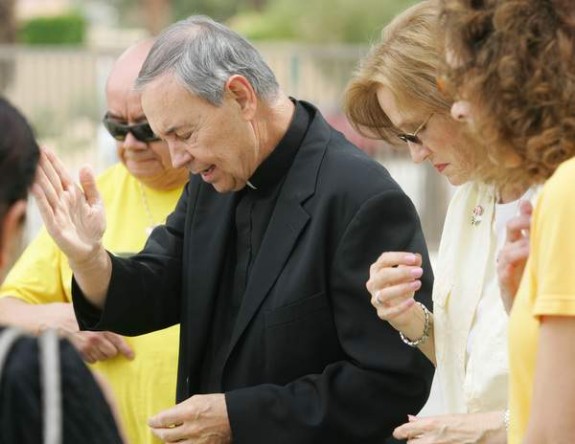 A California paper recently took a long look at one of the region's most colorful and popular priests in the Diocese of San Bernardino:
When the Rev. Howard Lincoln addresses the 6,000-plus faithful who will attend Masses at Sacred Heart Church this morning, the popular and charismatic Catholic priest will share a message that reflects the hope that Easter brings.

But the theme of Lincoln's homilies is not always easy to anticipate.

On a recent Sunday, he walked through the standing-room-only sanctuary preaching about the myriad gifts that God gave each of them to make humans different from his other creations.

In an effort to protect "the sacredness of human life," Lincoln concluded his sermon by encouraging the captivated crowd to sign two ballot initiative petitions available on their way out of the church.

"The Catholic Church teaches that our participation in the political process is a moral obligation," he said later.

"Responsible citizenship is a virtue. Just to kind of shrug cynically and walk away is not a proper response."

During nearly 11 years under Lincoln's leadership, Sacred Heart has prospered into one of the region's most high-profile and influential congregations.

The parish has donated millions of dollars to stock food banks, provide medical care to migrant families and to ensure that poor schools had books.

Amid this social outreach — made possible by the deep pockets of some of its parishioners — Lincoln has also worked to establish Sacred Heart as a politically involved church that encourages engagement in local and national issues.

Whether through the influence of those prominent parishioners or through his own connections — Lincoln won't say — Sacred Heart has also managed to snag A-list political celebrities, former President George W. Bush and presidential contender Rick Santorum, to attend the parish's fundraising galas.

(Just as impressive, he landed legendary Dodgers broadcaster Vin Scully to headline this year's event).

"We just got very, very lucky," Lincoln said in a recent interview…

…An engaging and witty speaker, Lincoln appeals even to those faithful who may not be entirely comfortable with his emphasis on civic and political action.

Thanks mainly to Lincoln, Sacred Heart's budget has quadrupled over the past decade, allowing the school and church to operate on $8.7 million a year.

During the season, an estimated 10,000 people flock to the church at the corner of Fred Waring Drive and Deep Canyon Road. Snowbirds sometimes line up 90 minutes before Mass to make sure they get a good seat.

The church has become so popular that police often have to help direct traffic.
Fr. Lincoln's own story may surprise a few people, too:
Lincoln, 65, is an anomaly among Roman Catholic clergy.

He was raised as a Protestant in Washington state and attended the Trinity Episcopal School of Ministry.

He was married and later divorced. And he worked in a variety of jobs, including time at a bank and an Irish pub, that provide a deep well of life lessons that he weaves into homilies and the Bible classes he teaches.

Twenty-one years ago, after converting to Catholicism and attending a Catholic seminary, he was ordained a priest.

His life experience has allowed Lincoln to relate to the people in the pews and in his modest office, where he works behind a plain, worn desk that's missing a drawer.