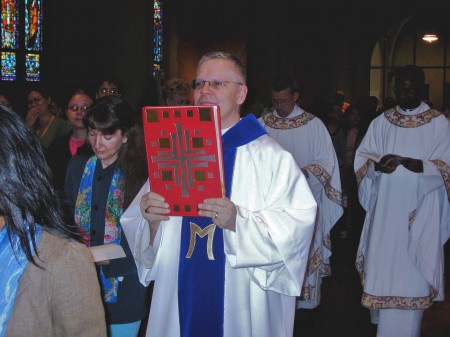 Last Saturday marked the five-year anniversary of my ordination; this week marks the five-year anniversary of "The Deacon's Bench."
Flipping through the archived scrapbook of memories, I found this warm appreciation of the diaconate by Rocco Palmo, who was an early booster of the blog.  Others began dropping by and mentioning The Bench — people like Amy Welborn and Julie Davis, the "Happy Catholic." But from Day One, an even bigger influence was my Blogmother, the then-anonymous woman hiding behind the cloister wall who called herself, mysteriously, The Anchoress. As I like to tell people, I knew Elizabeth Scalia "back before she took the veil," when we first bumped into each other at an online Catholic web forum called Catholic Pages, back in the infancy of the Internets (this was around 1997 or 98, I think).  She was an enthusiastic booster of The Bench in its early days, linking to homilies and imploring people "read this." She's the main reason why I developed any readership at all, and she remains the biggest reason I'm here at Patheos today, continuing to "ponder the world" from my homely wooden pew. She's taught me much about blogging — but also about faith, loyalty, friendship and the power of the Holy Spirit to slap you silly when you need it.  Thank you, Elizabeth.
The other big reason the blog is still here, of course, is you: the men, women, students, deacons, priests, ministers, rabbis, believers, non-believers, doubters, seekers, fist-shakers, bible-thumpers, novena-prayers, tree-huggers, parents, teenagers, Internet geeks and assorted web surfers who found The Bench and then, to my amazement, kept coming back.  Here comes everybody!  Some of you were here when I was an upstart with just two postings on Blogger; others joined in during my stay at Beliefnet; more slid onto The Bench last year when I made the leap to Patheos.  All I can say is "thank you," but that hardly seems sufficient.  But thank you, anyway!  🙂  Thank you for the gift of your readership, and the blessing of your thoughts, prayers, e-mails and comments (even the ones I've deleted!) You've taught me much, too — especially the value of humility.
If you've never seen it before, you might find the curiosity below of interest: not only was this the first posting at The Deacon's Bench five years ago, but it was also my first homily, delivered at my Mass of Thanksgiving on May 20th, 2007.  (The pictures were taken by my sister.  The Marian dalmatic I wore that day was my wife's ordination gift to me.)  The homily says something about where I was then — and where we all are today, all of us poised and praying in the days before Pentecost, waiting for that indescribable something that we can't quite name.  Who knew it would be something as bright and warm and as fearsome as fire?  But the lesson holds: be careful what you pray for.
Meantime, as we say at ordinations and anniversaries: ad multos annos!
+++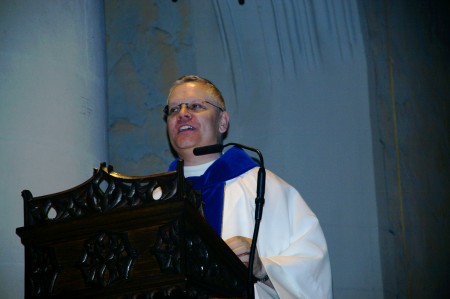 There's an old Yiddish saying: "If you want to hear God laugh, just tell Him your plans."
I'm sure, this morning, He's in stitches.
Not so very long ago, I would never have dreamed that I'd be here. And I know a few of you who are here who couldn't quite imagine it either. But the last few years have taught me to expect the unexpected. As John Lennon put it: life is what happens while you're busy making other plans.
During this moment near the end of the Easter season, I can't help but wonder what plans the apostles were busy making.
This Sunday, we're cradled between Ascension Thursday and Pentecost. A few days ago, the apostles saw Christ disappearing into the clouds. And they've now gone back to Jerusalem – confused, confounded and maybe conflicted. They have no idea what will come, no idea what lies ahead. And so they go to the upper room, to close the doors against the world, and draw the curtains against the light…to wait and watch and wonder.
It is, in a way, a mini-Advent. They are anticipating something. But they don't yet know what.
And at this moment, in this twilight zone of time, scripture speaks to us.
This Sunday, we hear Jesus' words of prayer. It is a prayer for unity. A prayer for communion. A prayer for all those who follow Him – even the generations yet unborn.
He prays, in fact, for us.
"Father," he says, "they are your gift to me." What a breathtaking statement that is. Here, God's gift to mankind says that mankind is God's gift to HIM.
How desperately the world needs to hear that – a world that is too often terrified…or terrorized. A world that thinks that God doesn't matter…or that seems to have forgotten just how much we matter to God.
This morning, I think about the apostles in their upper room…and I think about others who are also waiting, and watching, and wondering.
A young woman whose husband is serving in Iraq.
A father who was laid off from his job.
A grandmother undergoing a CAT scan.
A teenage girl, listening for the car in the driveway and wondering if her father will come home sober – or even come home at all.
Each of us at some moment in our lives has known that upper room. That place of uncertainty. We can measure its walls. We have all walked its floor, locked its windows, and prayed that no one will find us — just like the apostles in this dark valley between last Thursday and next Sunday.
And yet in this mysterious void, we are reminded how much we are loved.
"Father, they are your gift to me."
Those are words to give us reason to wait, reason to hope.
The message of these days before Pentecost is one of the hardest to accept: it is simply to trust. Trust that God's promise will be kept, that he will not leave us orphans. Because when we feel abandoned and alone…when we flee to our own upper rooms…THAT is when God often makes Himself known.
He doesn't always do it with a roaring wind or a burning bush. He may do it with a friend who listens…a child who suddenly masters a two-wheeled bike…or a wife who holds her husband's hand and calms his fears when the rent is overdue. God's spirit is in all those things – a small slice of Pentecost, his way of reminding us: we are His gift. And he continues to give us Himself. In each other. And in the Eucharist.
When I was a kid – and my sister can vouch for this – every gift had to be acknowledged. Our mother made sure we wrote our thank you notes. The day after Christmas, if you didn't have the notes done, forget it. You were in trouble. Well, this is a Mass of Thanksgiving – and in a way it is a thank you note to God.
In Teilhard de Chardin's "Mass of the World," there's this beautiful line: "One by one, Lord, I see and I love all those you have given me to charm and sustain my life." Many of those who charm and sustain my life are here today – my family, friends and colleagues from CBS — and my gratitude and love go deeper than I can say.
I thank God, too, for people I've never met…so many who have filled these pews, and who have prayed me to this place.
But if anyone understands the power of prayer – and how God intercedes in our lives — it's my wife, Siobhain. She has worn out so many rosaries on my behalf. Not a day goes by that I don't thank God for bringing her into my life. When I was doubting and disbelieving, she prayed. When I lost courage, she prayed. When I wasn't sure I could complete this journey, and make it to ordination, she prayed even more.
And here I am: definitive proof that you should be careful what you pray for.
This Sunday, as we wait for Pentecost, let us join our prayers with the apostles who were waiting in Jerusalem…and with all those in the world today who are waiting, and praying, and pleading. Carry their intentions with you to communion. Pray with them and for them.
And, if you can, please pray for some men whose waiting is finally over: all of the newly ordained deacons, embarking on this new chapter of our lives.
For myself, this new deacon prays that you'll be patient with me. I pray that you'll pick me up when I fall, and help me find my way when I'm lost. The road won't always be smooth. There is a lot to do. And I have a lot to learn.
But I have learned this much: God doesn't want us to spend our lives in the upper room.
Open the windows. Let in the light. Have faith. And trust.
Because Pentecost is coming. Grace will abound. Wait for it. Look for it. And listen for it.
Because, when you least expect it, you just may hear the beautiful sound…of sacred laughter.