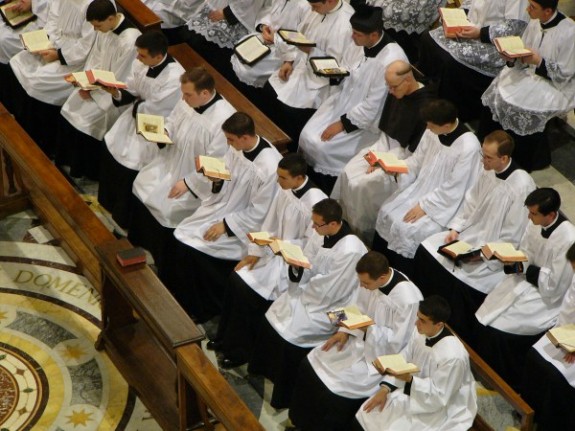 From NCR:
U.S. Catholic seminary enrollment in theology this year is the highest in almost a quarter-century, the Center for Applied Research in the Apostolate reported in the spring issue of its quarterly newsletter, The CARA Report.

The reported growth in seminarians, however, does not begin to match the growth in the U.S. Catholic population, which has increased by about 25 percent in that time period.

"This year's total of 3,723 is the highest enrollment since the 3,788 reported for 1988-89," CARA said.

"During the academic year 2011-12, enrollment increased by 63 diocesan seminarians and religious enrollment by 52 seminarians" over the 2010-11 figures, the report states.

CARA, based at Georgetown University in Washington, D.C., has been reporting yearly enrollment figures and other data on U.S. Catholic seminaries and seminarians since the 1967-68 academic year.

At that time, there were more than 8,000 seminarians studying theology, more than 13,400 students in college seminaries, and almost 16,000 high school seminarians.

Since then, U.S. high school seminaries have almost disappeared — down to four programs enrolling 448 students in the current school year, according to the latest CARA study — and college seminary enrollment has dropped almost 90 percent, to 1,355 students in the current academic year.

CARA said the current year's total of college seminarians was down 105, or 7 percent, from the previous year, and high school enrollment dropped by 84, or 16 percent.

The lower high school and college figures reflect long-term U.S. Catholic cultural trends toward later vocational discernment that CARA and other sociologists of religion have been analyzing and discussing for many years.