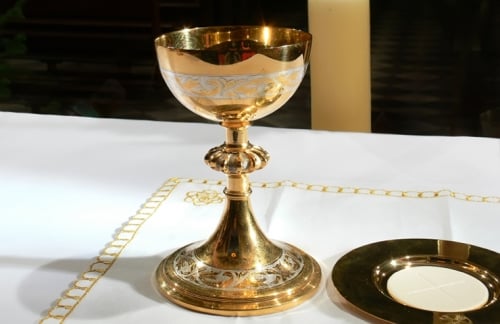 Last week, I swapped emails and had a great phone conversation with the husband of Marcia Morrissey — that would be Ed Morrissey, the blogging genius behind Hot Air. Ed wrote me yesterday to share some happy news: he'd just served for the first time as an Extraordinary Minister of Holy Communion. Great!, I said. Would you like to write about it?
He would, and he did, and the result is below.
+++
On Friday, I received training to be an Extraordinary Minister of Holy Communion in my parish. Now at 49, you might wonder what took me so long, but the gravity and mystery of the Eucharist can be rather … daunting. The training took about an hour; we have a large congregation, and we need 19 EMHCs for each Mass, so it can get a bit complicated. Our EMHC leader answered all our questions, but exhorted us to find a Mass quickly to serve, lest we lose our nerve.
Today's noon Mass was my, er, High Noon. I've done a lot of public speaking, do a radio show, and yet I was so nervous that my wife commented to me at one point that my hands were as cold as ice — and it was a warm day. I prayed a decade of the Rosary prior to Mass, listened intently to the readings, and sang enthusiastically to burn off some of the nervous energy. Still, I was so tentative that I was almost late coming forward with the other EMHCs for our own communion — and the moment was upon me.
I had hoped to serve the Body, but ended up with the cup instead, which should have made me even more nervous. However, I had a completely different emotional reaction once I stepped up to the altar. I felt the Holy Spirit calming me and replacing my anxiety with an eagerness to serve. I had the blessing on this Mother's Day to have my wife be the first person to receive from my cup, and that helped focus me as well. As I continued, my voice got stronger with each "The blood of Christ" I spoke, and my heart grew more glad.
This process was illuminating, in a couple of different ways. As a Catholic, I have a relationship with the Eucharist that goes back more than 40 years, but today that relationship changed. The blessing of serving the Eucharist connected me closer to it, in an emotional manner that I hadn't expected. After Mass, I joined the two EMHC team leads to consume the rest of the Precious Blood, and I mentioned the emotional response to one of them. She agreed, and told me about her emotional reaction to serving at a First Communion Mass. Before today, I'm not sure I would have understood that, but now I have a sense of what she experienced.
The experience also confirmed in my mind that the Lord may have some plans for me, and that I may be ready to open my heart to them. In the meantime, I can hardly wait for the next Mass in which I will be privileged to serve.