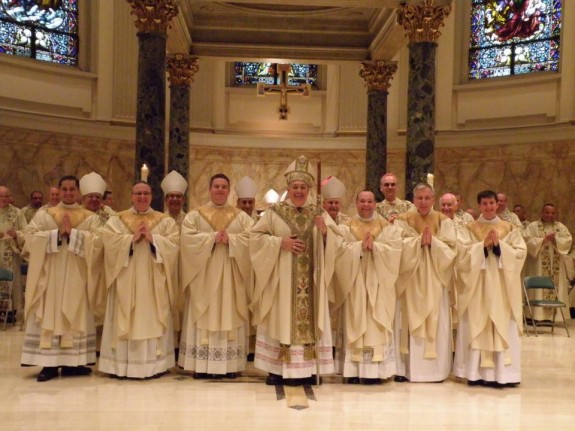 I was flying back from Indianapolis and missed the ordinations today, but above is the first picture of the new crop.
Details on the men, from the Brooklyn Tablet:
Bishop Nicholas DiMarzio will ordain six men to the priesthood for the Diocese of Brooklyn at a Mass at St. James Cathedral-Basilica, 250 Cathedral Place, Downtown Brooklyn, on Saturday, June 23, at 11 a.m.

The six men are Father Sergiy Emanuel, Father Giancarlo Pattugalan, Father Larry Ryan, Father Stephen Saffron, Father Sean Suckiel and Father Joseph Zwosta.

"These young men truly are representative of the diversity of the people of the Diocese of Brooklyn," said Bishop DiMarzio. "Their ordination will be a deeply moving experience and is among the most important days in the life of the diocese. These men have demonstrated their courage by being so counter-cultural and are a sign of hope for the future. Their lives exude the zeal to be truly apostolic priests for the New Evangelization."
Read their biographies at the link.
Congratulations! And yes: ad multos annos!