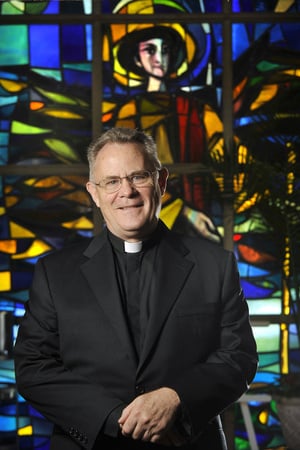 He's also married with children, and took a remarkable path into the Church and the priesthood.
When David Affleck was ordained earlier this month as Maine's newest Roman Catholic priest, his wife, Katherine, sat in the pews at Portland's Cathedral of the Immaculate Conception.

Wait, what?

A Catholic priest who's married? With children? That can't be right.

Except it is.

Affleck, 62, of York, is a former Episcopal priest who took advantage of a 1980 papal provision that allows him and others like him to become priests in the Catholic Church.

Only a handful of such ordinations take place in the U.S. each year. In Maine, it's happened just three times in 32 years, and Affleck is the only current convert. One died, and the other has left the church.

"It is indeed rare for a pastoral provision to be sought and granted," Bishop Richard Malone said in a statement. "The Church takes a great deal of time and energy to know that the man in question is truly being called to the priesthood and completely understands the responsibilities and ministry within the Catholic Church."

The trend, however small, is less a reflection of relaxed requirements of the Catholic Church and more a sign that fewer men are joining the priesthood, said Monsignor Michael Henchal, a Catholic priest in Maine for nearly 40 years. Aside from Affleck, only one other priest has been ordained this year. There are now more retired priests in Maine (86) than active priests (69). Affleck is needed.

That's not to diminish his resume. He has a master's degree, a doctorate and more than 15 years of priesthood under his collar. When parishioners of St. Raphael in Kittery, St. Christopher in York or Our Lady of Peace in Berwick see Affleck at the front of their church, reading Scripture and offering Communion, they see a man of distinction and conviction.

Some may not even realize he hasn't taken the vow of celibacy that traditional Catholic priests must take.

"People have been very welcoming, they have been accepting," he said during an interview last week at his modest parish office in Kittery. "If there are people who are bothered by this, they haven't said so."

Mitch Picard of York is a parishioner at St. Christopher and the current chairman of the parish council. He said he hasn't heard from any parishioners who have objected to Affleck's ordination or his background.

"It almost went unnoticed because he was a deacon for a year," Picard said. "Now, he just has a different role at the altar."

Affleck's journey from the Episcopal Church to the Catholic Church is nuanced, but he speaks of it thoughtfully.
Read on to find what happened.