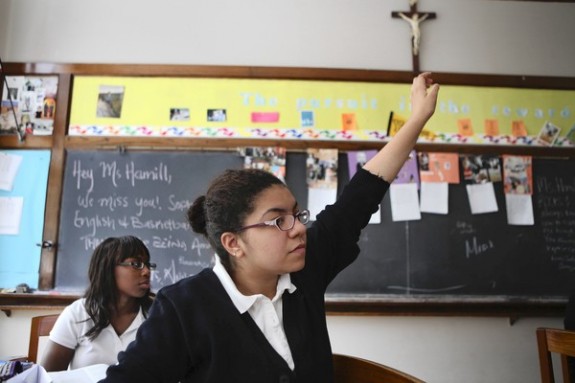 The Chicago Tribune looks this weekend at some trends in Catholic education — and finds, despite the hurdles, hope:
If what has happened to St. Scholastica Academy in Rogers Park illustrates the grand rise and decline of Catholic schooling over the past century, supporters hope Cristo Rey Jesuit High School in Pilsen is more telling of its future.

St. Scholastica, a girls Catholic high school founded in the 1860s, has struggled for years with low enrollment and will close this week after holding graduation on Sunday.

Meanwhile, the coed Cristo Rey school, which opened in 1996, has more than twice the number of applicants as there are open spots.

Experts on parochial schools believe Catholic education may be at a turning point after decades of declining enrollment. The Chicago Archdiocese has seen its second straight increase in elementary enrollment. And the Big Shoulders Fund, a nonprofit that provides financial support and scholarships for inner-city Catholic schools, brought in its largest single-event haul of $6.25 million at a dinner May 24.

"We are going from stopping the bleeding to 'Let's have a celebration,'" said Sister Mary Paul McCaughey, superintendent of the  Archdiocese of Chicago Catholic Schools.

But experts warn Catholic schools still face myriad challenges, some that go back at least 50 years.

In terms of enrollment and number of schools, Catholic education hit its high point in the 1960s, according to estimates by the National Center for Education Statistics. At the start of that decade, there were close to 13,000 schools across the nation with about 5.3 million students. Both numbers declined steadily over the years — with a period of stabilization in the 1990s — to nearly 7,000 schools and about 2 million students for the 2010-11 year.

During that same 50-year period, Chicago Catholic school enrollment dropped from 344,000 to about 86,500. Public school enrollment also dropped starting in the early 1970s, but unlike Catholic schools, it started to rebound in the late 1980s. With the closing of St. Scholastica — announced in March — there will be 255 Catholic schools in the Chicago Archdiocese. There were 526 in 1960.