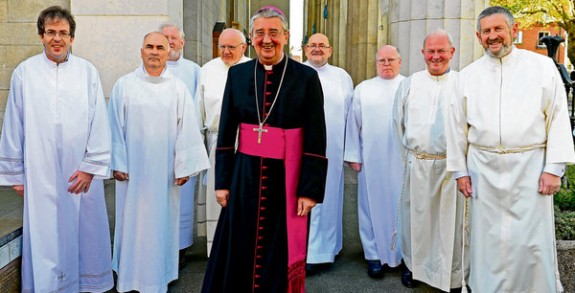 The first permanent deacons in the Irish Catholic Church were ordained in Dublin last night [Monday] by Archbishop Diarmuid Martin.

The eight men ordained at the Pro-Cathedral are: Eric Cooney from Monkstown, who works in financial services; Gabriel Corcoran from Dundrum, a lecturer in the Dublin Institute of Technology; Gerard Larkin from Templeogue; Gerard Reilly from Donaghmede, who also works in financial services; Jim Adams from Donnybrook; Joe Walsh, retired, from Lucan; Noel Ryan, retired, from Ballinteer; and Steve Maher from Malahide, who is semi-retired and a former Aer Lingus worker. All are married except Mr Walsh.

On Saturday, Dr Martin ordained Fr Paul Ludden (34) in his home parish of Malahide. He is the first priest of the class of 2012 to be ordained. The eight new permanent deacons completed a four-year course of academic study and spiritual, human and pastoral formation.

Their ministry will be voluntary and part time. They can now assist priests at the celebration of the Eucharist and celebrate baptisms, as well as officiate at marriages and preside at funerals.

They will also visit the sick, prisoners and the bereaved and promote awareness of the social teaching of the church.

Seven other dioceses around the State have permanent deacons in formation. Permanent deacons are reasonably common in other parts of Catholic Europe.

The deacons will work in parish teams alongside priests and lay parish pastoral workers.

Four years ago, Dublin was also first in Ireland to train and appoint pastoral workers. Today there are 12 men and 20 women in such roles throughout the archdiocese.

They help to deepen knowledge of faith and support initiatives around prayer and the sacraments.
Congratulations! Welcome, brothers! Ad multos annos!