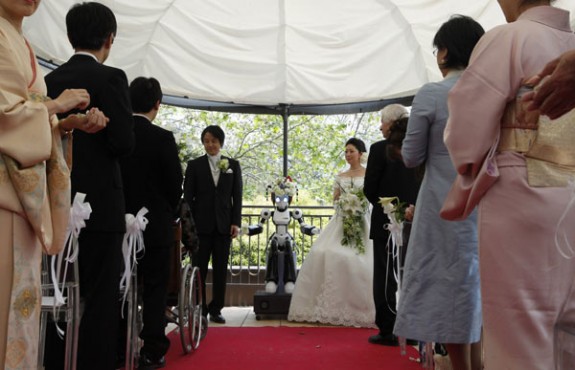 Somehow, I missed this news when it broke last month:
Almost everyone stood when the bride walked down the aisle in her white gown, but not the wedding conductor, because she was bolted to her chair.
The nuptials at this ceremony were led by "I-Fairy," a 4-foot tall seated robot with flashing eyes and plastic pigtails. Sunday's wedding was the first time a marriage had been led by a robot, according to manufacturer Kokoro Co.

"Please lift the bride's veil," the robot said in a tinny voice, waving its arms in the air as the newlyweds kissed in front of about 50 guests.

The wedding took place at a restaurant in Hibiya Park in central Tokyo, where the I-Fairy wore a wreath of flowers and directed a rooftop ceremony. Wires led out from beneath it to a black curtain a few feet away, where a man crouched and clicked commands into a computer.
I'm sure a few people who have been to weddings presided over by disinterested priests, deacons, rabbis or other ministers might have considered a robot an improvement.
But wait, there's more: video below.