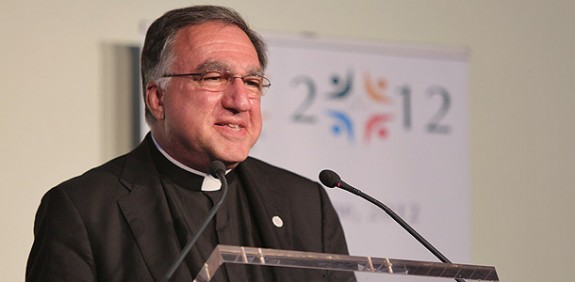 From the Canadian magazine The Walrus comes this profile of Fr. Thomas Rosica, the guiding force behind the Catholic television network Salt + Light:
Born in Rochester, New York, Thomas Rosica received his BA in French and Italian language and literature at St. John Fisher College in nearby Pittsford, and went on to earn advanced degrees in theology and sacred Scripture in Toronto, Rome, and Jerusalem. Before discovering his inner entrepreneur, he was well into a career teaching Scripture at the university level, when he was called back from Jerusalem to take over the floundering Newman Centre at the University of Toronto in 1994.

He cleaned house (both literally and figuratively) and swiftly moved the centre from a financial trouble spot for the Church, with an alternative, disaffected congregation on the margins of Catholic orthodoxy, to a tightly run ship in lockstep with the Roman Catholic Archdiocese of Toronto. Not everyone was pleased: complaints from alienated former congregants grew so intense that his superiors conducted an inquiry to determine what was going on. Rosica was vindicated, and his aggressive, entrepreneurial style (he is very American) also impressed someone higher up.

"In 1998, I was in a meeting with [the late] Archbishop Meagher, and he said the Bishops of Canada wanted to petition for World Youth Day," he recalls. "He asked me who I thought would be a good CEO for the event, and I said, whoever it is I feel sorry for him! Then he told me he was planning to submit my name. Four months later, I was called to Ottawa to be interviewed by a panel of French and English bishops. Four days after that, I got the call, and my life radically changed."

The priest worked 24/7 to organize what would become the Seventeenth World Youth Day; held in Toronto during the summer of 2002, it drew more than 800,000 pilgrims to Downsview Park. Logistics were made all the more complicated because the congregation took place less than a year after the September 11 terrorist attacks, and required coordinating security with the local police as well as the RCMP, CSIS, and even the FBI, the CIA, and Interpol. Culminating with a Mass conducted by the gravely ill Pope John Paul II, the event was deemed a success by Church officials in Canada, and raised Rosica's profile even further.

That same year, the Gagliano family of Toronto, founders of the influential St. Joseph Communications group, invited him to a meeting. Their deeply religious patriarch, Gaetano (then eighty-five), and eight of his ten children — including his son Tony, the company's executive chairman and CEO — were in attendance. "They said, 'Papa has wanted to start a Catholic television network for ten years, but the Church didn't seem interested, so we just bought the licence ourselves.' " The priest demurred (he had no background in broadcasting), but the family persisted, even faxing him a contract at the Vatican for the position, with thanks in advance for his acceptance: "One day, I had lunch with the Holy Father and told him that these people in Canada wanted me to start a television network. 'You will take it,' he responded. 'Canada is a mission country!' "
The rest is history.  
Read more here.
Meantime, Rosica also spoke at the just-completed Eucharistic Congress in Dublin:
In using the media to evangelize the masses, we must never lose sight of the need to reach and teach the individual as though he or she were the only person being addressed.  We need to keep our focus on reaching the world with a message of hope, a theme that has been key in teachings of Pope Benedict XVI, especially in his encyclical on hope, "Spe Salvi." We must have a passion for the truth, always seeking in depth that solid soil of the vital relationship with God and others, a place to really build a culture of respect, of dialogue and of friendship and a way of respecting the dignity of every man and woman.

We have a long way to go in the media area both in the Church and in our media establishments.  Barrier walls and hostilities that exist between media and Church must be overcome.  It serves no purpose for Church officials, leaders and individuals to vilify those involved in the media, to stonewall and not respond to the constant "urgent" phone calls of this reporter, that producer, some editor.  That's the nature of the beast!  They don't call it breaking news for nothing!

Nor does it serve any purpose for those in the media world to ignore or marginalize the Church and religious issues into banal, trivial matters that don't merit serious reflection.  We have much to learn from each other, and we have much good work to do together to serve the cause of truth and decency in a world that is becoming more devoid of value, virtue and meaning.  The most profound realities and truths cannot be reduced to sound bites.

What is required of Catholics who wish to enter the arena of media- in small and big ways, is prudence, wisdom, intelligence, savvy, humor, and above all, humanity.  And dealing with the media today is not the sole work of "designated" church communications personnel- some who know the trade, and know the importance of proactive and active work, while others, (thinking that they are experts), know the trade poorly- always remaining in fearful, reactive and crusading modes of response!  We will all make big mistakes and blunders in venturing forward on the media stage.  But we can learn from those mistakes, let go of grudges and old animosities, and build a collaborative future.