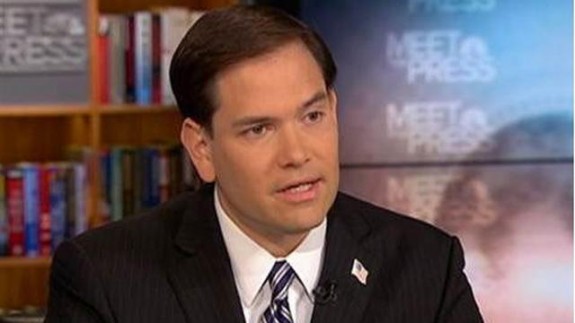 Most of the attention yesterday was focused on his remarks on immigration, but the Christian Post takes up another angle:
Sen. Marco Rubio (R-Fla.) said he felt "called" to leave the Church of Jesus Christ of Latter-day Saints (LDS), or Mormon Church, to join the Catholic Church in a Sunday interview on NBC's "Meet the Press."

Rubio – who is currently being considered as a vice presidential nominee by Republican presidential candidate Mitt Romney, who is a Mormon – explained that his mother decided to join the LDS Church after the family moved to Las Vegas when Rubio was eight years old. Some of Rubio's relatives were, and still are, members of the LDS Church, so the family had some familiarity with the church through them.

His mother wanted a "wholesome environment to raise" her family, Rubio said, and she was "a big admirer" of the "family-friendly  environment" within the LDS Church.

Rubio explained that he decided to leave the LDS Church and join the Catholic Church four years later. It was one of two occasions in his life when he had been "called back" to the Catholic Church.

"For spiritual reasons, when I was about 12 years old, I started feeling called back to the Catholic Church and it was nothing against the Mormon Church, it was just a calling, that's happened twice in my life," Rubio said.

Rubio, whose parents immigrated to the United States from Cuba, wrote a book about his life, published last week, called An American Son: A Memoir. Rubio's religious faith is one of the book's topics, he mentioned.