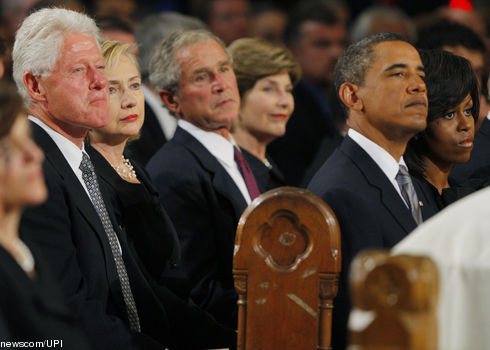 One author suggests that it doesn't.
He called himself a "life-long Quaker and a church-going Christian," and at first there was no reason to doubt him.

He played piano in the church, taught Sunday school, and praised Jesus at revivals. His mother thought he was going to be a missionary. His friends said he would be a preacher.

We now know this former Sunday school teacher as "Tricky Dick" or, more formally, President Richard Nixon. He was one of the most corrupt and paranoid men to occupy the Oval Office. Nixon gave us Watergate, but he also gave presidential historians like Darrin Grinder a question to ponder:

Does a president's religious faith make any difference in how he governs?

"I don't think so," says Grinder, author of "The Presidents and Their Faith," which examines the faith of all American presidents.

"If I asked George W. Bush what he thought about torture, I think outside the presidency he would say he hates it," Grinder says. "But he'd do it for the country if he thinks it's right in terms of American security."

We elect a president every four years, but perhaps we also elect a high priest.  Ever since George Washington spontaneously added "so help me God" to his inaugural oath, Americans have expected their presidents to believe in, worship and publicly invoke God.

A presidential candidate who doesn't meet these religious expectations won't go far, Grinder says.

"It's going to be a long time before anyone who openly admits that he or she is an agnostic or an atheist is elected," Grinder says. "We tie character and religious beliefs together."

History suggests, however, that piety and presidential performance don't always match. Some of America's most religious presidents have been its most brutal. And two of its greatest presidents wouldn't even be considered Christians today, scholars say.

Consider Abraham Lincoln, who is widely acknowledged as one of the nation's three greatest presidents, along with Washington and Franklin Delano Roosevelt. But Lincoln, who never joined a church, was not a Christian, says Niels C. Nielsen, author of "God in the Obama Era."

"Lincoln believed in an active God, he believed in providence. But if you asked Lincoln if he believed in the deity of Jesus, he would have said no," Nielsen says.

Or look at Roosevelt, who is virtually a national saint. With his perpetual grin and a cigarette holder perched jauntily in his mouth, he guided the nation through the Great Depression and World War II. His legacy is built on his New Deal, an array of programs that protected the poor and elderly from the abuses of unrestrained capitalism.

But Roosevelt was no saint in his personal life. He rarely talked publicly about his Episcopalian faith, preferred golf over church (before he was stricken by polio), and likely cheated on his wife, scholars say.

Yet few presidents embodied the biblical concept of "comforting the afflicted and afflicting the comfortable" as much as Roosevelt, who once called the heartless business tycoons of his day "the money changers" in the temple.