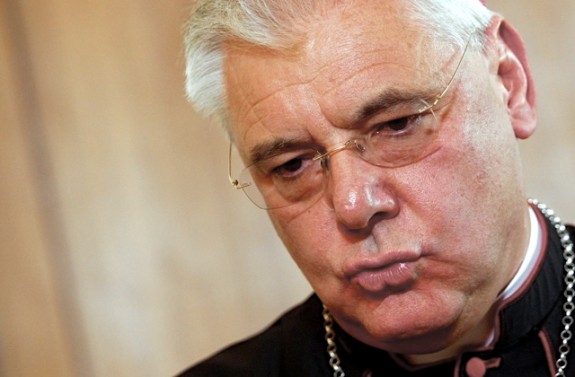 Anticipated for months, it's finally official — at Roman Noon this Monday, the Pope named Bishop Gerhard Ludwig Müller of Regensburg as prefect of the Congregation for the Doctrine of the Faith, accepting the retirement of Cardinal William Levada a year after the highest-ranking American in Vatican history reached the canonical age of 75.

With the appointment of the 64 year-old theologian — the editor of the still-in-production "Complete Works" of Joseph Ratzinger — Germans now occupy two of the Vatican's top three posts: a level of dominance that, until now, has been enjoyed only by Italians.

Made an archbishop on the move, by seniority Müller will be the first cardinal created by Benedict at his next consistory, which could come in Spring 2013, with one exception: namely, should the pontiff appoint a new Secretary of State before then who hasn't already received the red hat.

Early last month, the most definitive sign of the impending appointment came when the Pope appointed Müller as a member of the Congregation for Catholic Education and the Pontifical Council for Christian Unity — a combination that, among the Curia's senior members, has only been held by Levada.

Once the "supreme" dicastery of the Roman Curia, the roots of the congregation date to 1542, when Pope Paul III established it as the Sacred Congregation of the Universal Inquisition. In the post-Vatican II reforms of Paul VI, the "Holy Office" was given its current name, with a rebooted mandate to encourage and promote theological study beyond its traditional function as the global church's lead guardian of orthodoxy.

A priest of Mainz, the new prefect spent most of his priesthood as a theology professor before his appointment to Regensburg in 1992.