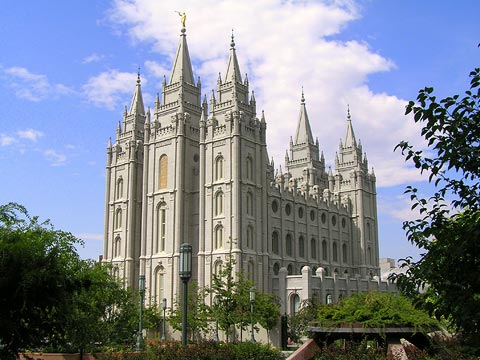 A compelling read, from First Things: 
Early in the evening of May 28, 2010, I am attending Mass in the majestic Basilica di Sant'Apollinare next to the Pontificia Università della Santa Croce in Rome. From Utah I have come as a scholar to deliver a paper at an international conference on the work of the great Catholic philosopher Dietrich von Hildebrand, and I have come as a tourist to see the Eternal City for the first time. Mass is being celebrated in the basilica for those attending the conference.

I am not Catholic—in fact, I was raised a Mormon, though I have had serious doubts about the Latter-day Saint faith for decades. Yet my journey of the heart—which ultimately ended in the Catholic Church—came long after I had intellectually departed—so I cannot receive Holy Communion. But when Archbishop Raymond Burke places his hand on my head in a blessing, the extraordinary presence of Jesus Christ moves my soul to tears. I now know, in my head and in my heart, that I have come to Rome as a pilgrim. I have finally heard his voice, and I will not turn away.

Of course, I was awestruck by the beauty of Rome. The conference was wonderful, and I made important contacts and great friends. But infinitely more important, I found a priceless gift: the God of truth I had ignored for decades. I found my soul, which had been lost in the fog of my pride and stubbornness. Thus began a journey that took me to the waters of Catholic baptism, the anointing of confirmation, and first Communion at the Easter Vigil of 2012. You do not need to travel thousands of miles to have a real encounter with Christ. But your soul does need to be open in a way mine had not been for years.
Follow his journey here.