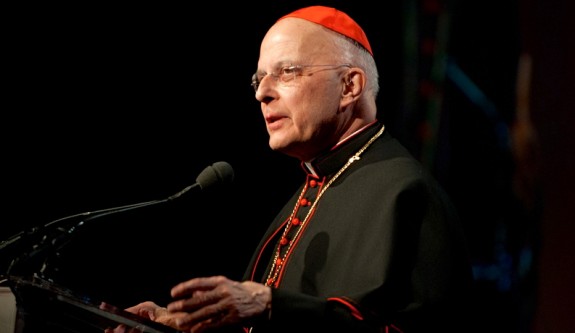 From the Associated Press:
Facing a second battle with cancer in six years, Cardinal Francis George said Friday he intends to keep up with his duties, but that the diagnosis was hard to take after believing he had beaten the disease.

The 75-year-old spoke to reporters during a gala celebrating his 15th anniversary as leader of the Archdiocese of Chicago, one week after it was announced that he had cancerous cells in his kidney. George survived bladder cancer six years ago, and doctors don't yet know whether the current cancer is linked to the earlier one.

"I felt I had licked something and I didn't, and so that isn't a good feeling," he said.

George said he expects to learn more about his condition early next week. After that, he'll hear from doctors about possible treatments and whether that might include chemotherapy.

Physically, George said he feels fine, despite a little weakness after a biopsy, and that his appetite is good. He thanked his well-wishers – many of whom have also battled cancer – for their prayers and letters.

The Archdiocese of Chicago announced Aug. 17 that doctors at Loyola University Medical Center found cancerous cells in his kidney and liver.

George, the spiritual leader of 2 million Roman Catholics in the Chicago area, was treated for cancer in 2006 when doctors removed his bladder and prostate in a five-hour operation.

"The assumption was that, after six years, having had my bladder totally removed, with no evidence of cancer that it was not just in remission, but that it was cured," he said Friday.

He said he won't know until next week whether his current condition is linked to the earlier sickness.