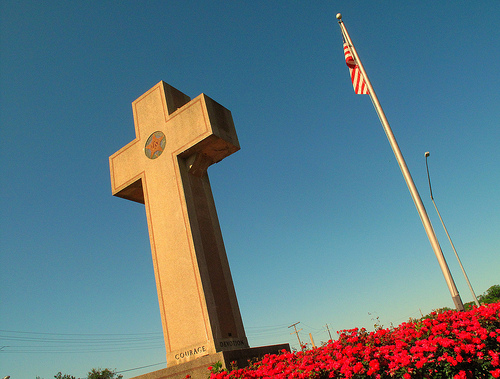 Details, from Gazette.net:
A complaint filed by an atheist group asking for the removal of Bladensburg's Peace Cross — a longtime community fixture dedicated to Prince George's County veterans — has stoked debate and opposition from officials and residents across the county.

The Peace Cross was dedicated in 1925 in honor of the Prince George's County World War I veterans. It stands 40 feet tall with a large gold star in the center. Its base contains the words "Valor," "Endurance," "Courage" and "Devotion" and a bronze tablet containing a quote from President Woodrow Wilson.

The American Humanist Association, a Washington, D.C.-based group that advocates on behalf of humanist and atheist causes, filed a complaint last month with the Maryland-National Capital Park and Planning Commission saying that the cross, which falls on the commission's land and sits at the intersection of Md. 450 and U.S. 1, is an unconstitutional use of a religious symbol on public land. The group said it will take the battle to court if no action is taken.

"I am definitely in opposition to taking down the Peace Cross," said Bladensburg Mayor Walter Lee James Jr. "It is not a religious symbol. It is a symbol to remember those who gave their lives to protect the rights and freedoms of our county."

A petition on change.org opposing the move by the AHA has attracted more than 2,000 supporters.

Phillip Holdcraft, commander of the American Legion 131 in Colmar Manor, said the post strongly opposed the complaint and said they viewed the cross as a monument to veterans rather than a religious symbol. The American Legion erected the monument in the 1920s.