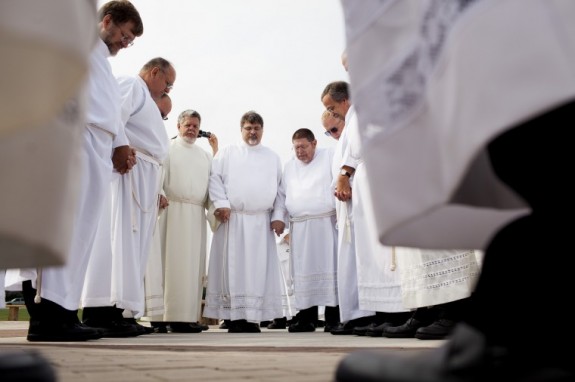 Matthew Keyser has been youth minister at Holy Spirit Catholic Church for several years, but he felt called to do more.

On Saturday, Keyser was one of 18 men ordained as deacons in the Owensboro Diocese, which covers the Western Kentucky region. The ordination took place at Holy Spirit, which was packed with about 1,000 people for the ceremony.

"There's a lot of excitement," Keyser said. "I kind of feel like it's graduation day."

In the Catholic tradition, deacons are considered clergy and can perform many of the same tasks as priests, including preaching, baptizing and performing weddings and funerals, according to the Rev. Jerry Riney of Holy Spirit.

"There are a lot of things (Keyser will) be able to do and step up to the plate," Riney said. However, there are some tasks deacons can't perform, such as preside over communion or hear confessions.

Deacons act as an aide to the priest and help bridge the gap between the sacred and secular worlds, Keyser said. The role of deacons in the Catholic Church was established in biblical times, and there are currently tens of thousands of Catholic deacons throughout the world.

"It can be a little intimidating, but it also gives you many, many good examples," Keyser said.

Though there is a long traditions of deacons in the Catholic Church, the 18 deacons ordained Saturday made up the first class of deacons trained in the Owensboro Diocese, Riney said. A few deacons have served in churches in the diocese before, but they were transplants from other dioceses.

The new deacons studied for five years leading up to their ordination, learning about a wide variety of topics, including scripture, theology and the history and beliefs of the church, Keyser said.

In his sermon at Saturday's rite of ordination, Bishop William Medley told the deacon candidates they are "called to be transformers of the church."

"Don't ever forget the path by which God has called you," Medley said.
During the ceremony, the candidates declared their intention to undertake the ministry and promised obedience to Medley and his successors. Medley then laid his hands on each candidate's head to symbolize the calling down of the Holy Spirit. Later, the candidates laid on the floor to show that they lay down their lives before Christ.
Read more, including some vocation stories, at the link.
Congratulations, brothers! Ad multos annos! And welcome!
Photo: Nathan Morgan/Daily News