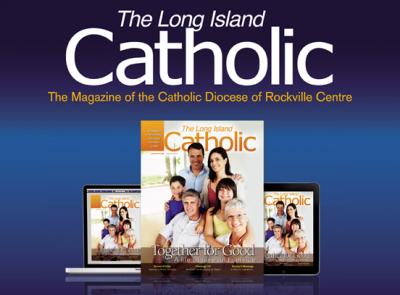 The Diocese of Rockville Centre has made official what had been rumored for some months: the Long Island Catholic weekly newspaper is being converted into a monthly magazine.
From the paper's website:
On October 2, 2012, Bishop William Murphy announced that The Long Island Catholic is changing formats from a newspaper to a magazine model. Sean Dolan, director of communications for the Diocese of Rockville Centre, is overseeing the transition to the new model.

According to Dolan, many newspapers reach the point where reduced revenues and increased production costs force publications to close. Dolan said the bishop is pleased that in the face of the newspaper's financial challenges, the diocese will be able to re-launch The Long Island Catholic as a high-quality subscription-based magazine. It will have substantial local content while also saving the diocese hundreds of thousands of dollars in annual subsidy.

In addition to the new magazine, the current archives of The Long Island Catholic newspaper will be preserved. The current online archives that can be found on the newspaper website will continue to be available. Breaking news will be communicated via the Diocesan website: www.drvc.org.

Dolan is excited about the new venture and hopes readers will continue to support it by subscribing during the December 3 Long Island Catholic collection. "The newspaper has a rich history and has served our Catholic faithful and business community for more than 50 years. We hope that you enjoy the new diocesan magazine and support it enthusiastically." For those who contribute through the annual L.I. Catholic Collection on December 3, the diocese is offering the magazine at a reduced subscription price of $20.

To start, the monthly magazine will arrive in the homes of current newspaper recipients at the end of November. The new magazine will feature local news, faith stories and familiar columnists along with new, popular national columns. The magazine is based on a successful model from FAITH Catholic Publishing of the Diocese of Lansing, Mich. The model is used by more than 20 dioceses across the country.

The format change is more than one from newsprint to glossy paper. The content will change as well. The magazine will be more formational than informational by focusing on individual faith stories from Long Island Catholics. It will highlight the benefits of being Catholic and explore Catholic faith and spirituality. Columns on parenting and work will help Catholics apply their faith to everyday life.

The diocesan website will continue as a primary source for daily updated news.

According to Dolan, "The Long Island Catholic will be a resource for faith formation for Catholic families in our diocese. It will be something people will be proud to leave out, pass along and share. In this year of faith, we need to evangelize. And we think this new magazine will help in that regard."
Unmentioned is what impact, if any, this move will have on staffing at the newspaper/magazine.