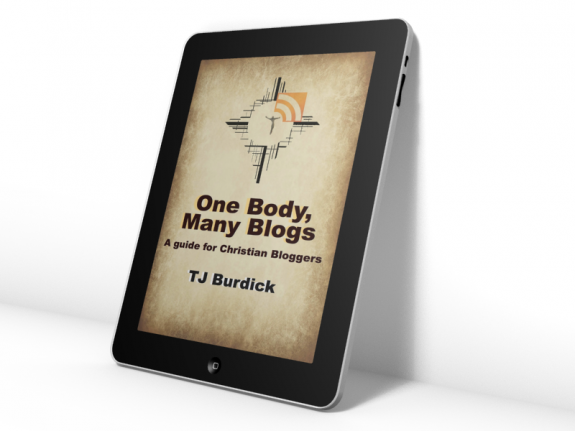 Well, just ask some folks who do it — and TJ Burdick did.  The results have now been published in a nifty little e-book called "One Body, Many Blogs," available at Amazon at this link.
As the publisher explains:
One Body, Many Blogs is a collection of answers from some of the giants of the Catholic blogosphere to the following question:

In your opinion, what are the "ten commandments" that Christian bloggers should keep in mind while pressing on in their digital mission?

Their answers are diverse and extremely helpful for anyone who shares the charism of blogging.  Each response was treated it as if it were a blogpost in length, voice, style and content. As you will see, each blogger has created a unique and informative response that will provide you with ideas on how to develop your own particular voice through the communal blogging charism by which you feel called to participate in.
Among the folks who weigh in:
Oh yeah: I'm in there, too.
A sample, and some sage advice, from Marc Barnes:
"Don't suck. There is a tendency within the Christian world to think the work we do will be good work, if only we do it for God. This is not true. Whatever work we do will be good work if and only if we do it well. Truly "writing for God" is not something lackadaisical. It does not come with holy feelings. Writing for God means harnessing the intellect, making full use of the talents He endows us with, seeking inspiration in Him, and producing excellent writing, in both style and content. Anything less is no service to God, no matter how well we think we are witnessing, giving testimony, or whatever Christian euphemism we want to use to disguise the fact that we can't be bothered to make something awesome."
Also: if you buy the book, you will help do a little bit of good, too.  All the proceeds for this endeavor—it only costs $1.99—go to The San Juan Diego Academy, a Catholic school that serves immigrant children in Wyoming, Michigan.
And hey, guys: all this and more for something that costs less than a foamy grande at Starbucks.  Go ahead.  Splurge.  Just click here to get started. I think you may find a lot of diversity, insight, faith and maybe even some fun.  Meantime, check out the video below.