The leader of Rhode Island's Roman Catholics deleted his Twitter account on Monday.

Diocese of Providence Bishop Thomas J Tobin called the social media platform a major distraction, in what he wrote was his final tweet, shared on Monday.

Tobin also called it an obstacle to his spiritual life and an 'occasion of sin' for himself and others.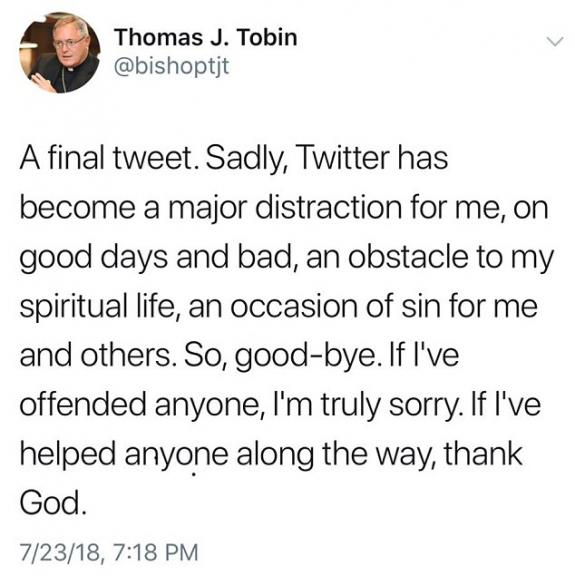 Some background: 
On July 19, after the latest revelations of sexual abuse by Cardinal Theodore McCarrick, the retired Archbishop of Washington, he tweeted: "Despite the egregious offenses of a few, and despite the faults and sins we all have, I'm very proud of my brother bishops and I admire and applaud the great work they do everyday for Christ and His Church."

The tweet received over 100 negative responses on Twitter, and in other Catholic online publications.
Just last month, however, Bishop Tobin had this to say about the social media platform:
In an interview with Crux, Tobin said he was hesitant to join the online community because he initially felt it was trivial and a waste of his time.

While he's long used his diocesan newspaper column and an official Facebook page to communicate with his flock, he decided to take the plunge and join four months ago, and in that time he's managed to fire off nearly 400 messages.

"Eventually, I came around and thought: the president is using it and the pope is using it…it has an impact," he told Crux.

Describing has foray onto the platform as an "experiment," he's all too aware of both its virtues and its vices.

"Its chief virtue is that it's immediate, and its network is enormous…I suppose that's what President Trump finds so useful, too," he said with a chuckle.

But in recognizing its downside, he says that anyone, including himself, can say anything.
 "I need a heavy dose of prudence in things that I post, because I don't use a lot of filters," he added.