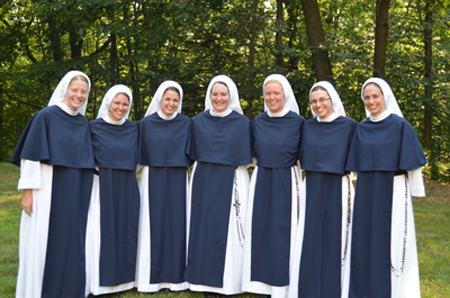 She's got a mega-roundup of nun newsiness over at her joint, pegged to the feast of St. Therese. It's quite a collection:
Let's start with the Sisters of Life for no other reason than they're in my header! They've clothed 7 New Novices, and celebrated six first professions and one final.

The Sisters of St. Francis of the Martyr St. George had a very busy August 15, as they celebrated the final professions of 13 sisters(!), then three first professions, while also clothing two new novices. After catching their breath, they welcomed three new postulants.

In the last six months, our friends the Carmelite Sisters of the Sacred Heart of Jesus celebrated two and then four more final professions, clothed novices preparing for first vows, and then received them, and moved a number of postulants into their novitiate.

The Benedictines of Perpetual Adoration received a new postulant and welcomed a sizeable number to their monastic weekend.

The Poor Clares of Perpetual Adoration in Hanceville celebrated two first professionsand one clothing. Their foundation in Arizona celebrated a first profession and has two aspirants.

The Sisters of St. Francis of Perpetual Adoration: one final profession, two first professions, one novice clothing and two postulants.
And she's just getting started.  There's much more.  Vocations are not just booming, they're ROARING.  Go and look.