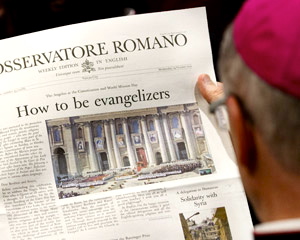 The Synod of Bishops released its final message today. Catholic News Service has a write-up. Below is a snip. Full text can be found here.
Our world is full of contradictions and challenges, but it remains God's creation. The world is wounded by evil, but God loves it still. It is his field in which the sowing of the Word can be renewed so that it would bear fruit once more.

There is no room for pessimism in the minds and hearts of those who know that their Lord has conquered death and that his Spirit works with might in history. We approach this world with humility, but also with determination. This comes from the certainty that the truth triumphs in the end. We choose to see in the world God's invitation to witness to his Name. Our Church is alive and faces the challenges that history brings with the courage of faith and the testimony of her many daughters and sons.We know that we must face in this world a difficult struggle against the "principalities" and "powers", "the evil spirits" (Ephesians 6:12). We do not ignore the problems that such challenges bring, but they do not frighten us. This is true above all for the phenomena of globalization which must be opportunities for us to expand the presence of the Gospel. Despite the intense sufferings for which we welcome migrants as brethren, migrations have been and continue to be occasions to spread the faith and build communion in its various forms. Secularization – as well as the crisis brought about the ascendancy of politics and of the State – requires the Church to rethink its presence in society without however renouncing it. The many and ever new forms of poverty open new opportunities for charitable service: the proclamation of the Gospel binds the Church to be with the poor and to take on their sufferings like Jesus. Even in the most bitter forms of atheism and agnosticism, we can recognize – although in contradictory forms – not a void but a longing, an expectation that awaits an adequate response.

In the face of the questions that dominant cultures pose to faith and to the Church, we renew our trust in the Lord, certain that even in these contexts the Gospel is the bearer of light and capable of healing every human weakness. It is not we who are to conduct the work of evangelization, but God, as the Pope reminded us: "The first word, the true initiative, the true activity comes from God and only by inserting ourselves in to the divine initiative, only by begging this divine initiative, will we too be able to become – with him and in him – evangelizers"(Benedict XVI, Meditation during the first general Congregation of the XIII General Ordinary Assembly of the Synod of Bishops, Rome, 8 October 2012).