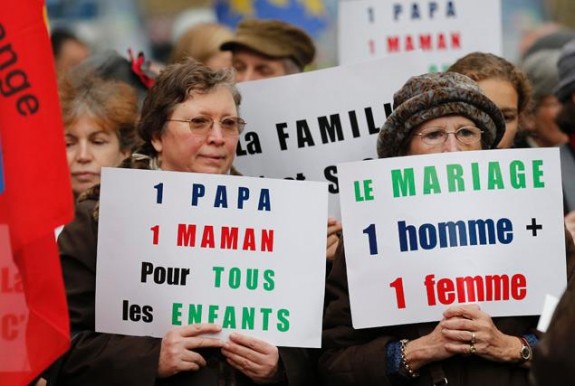 More than 100,000 protesters organized by Catholic groups staged separate demonstrations in French cities over the weekend to protest against government plans to legalize same-sex marriage next year.

Most of them took to the streets on Saturday, backed by the French Catholic Church and joined by several senior clerics, and several thousand more paraded with ultra-traditionalist Catholics in Paris on Sunday.

Though marching separately, they chanted the same slogan – "one father + one mother for all children" – and denounced the Socialist government's plan. Polls show about 60 percent support for the reform, but not the right for gay people to adopt children.

"Shame on the president, who'll protect the infants?" chanted protesters on Sunday as they passed boutiques and gourmet food shops in the capital's chic seventh arrondissement.

In the daily Le Monde on Saturday, the heads of the Catholic, Muslim, Protestant and Jewish communities urged President Francois Hollande's government to allow more time for a public debate on what they said was a foundation of society.

In the same edition, a front-page editorial called the plan "a legitimate, necessary and progressive reform" and said it will have been amply debated in public by the time the bill has its first reading in parliament in January.

Also on Saturday, Pope Benedict encouraged French bishops visiting him in the Vatican to oppose the reform, saying "the Church's voice must make itself heard relentlessly and with determination".

Hollande made gay marriage one of his campaign promises and his government plans to legalize it by mid-2013. It will include adoption rights for gay couples, but not the option of assisted procreation methods such as artificial insemination.