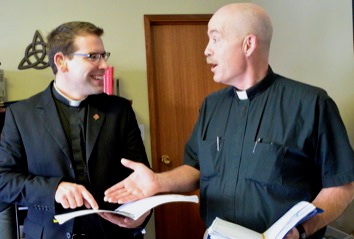 Details, from the Western Catholic Reporter in Canada:
Matthew Hysell became deaf after contracting spinal meningitis when he was 18 months old.

He lives in a mostly silent world, but those who know Hysell (shown in the picture on the left) describe him as a good listener, someone who pays attention to their concerns.

Since he arrived in Edmonton from San Jose, Calif., almost five years ago, Hysell has been busy studying theology, preaching the Word of God from the pulpit, visiting Catholic schools and giving retreats. Very soon he will be able to hear Confessions as well.

A transitional deacon currently assisting at St. Theresa Parish and at St. Mark's Catholic Community for the Deaf, Hysell will be ordained to the priesthood in Edmonton Dec. 7. He will be the first deaf priest in Canada.

"It's hard to believe that is actually happening because I've wanted to be a priest since I was 13 years old, even before I became a Catholic," Hysell, 34, said in a recent interview.

"At this point, however, it will be nice when it's all done because there is a lot of preparation and a lot of work that's involved. I just want to get to work."

His goals as a priest are diverse. "I want everybody that I meet to know how wonderful it is to be God's friend," he says. "I want people to know that life is worth living precisely because of God's love for us."

At a more practical level, "my goal is to do what the archbishop wants me to do."

Born in Muskegon, Mich., Hysell came to Edmonton in 2008 to study advanced theology with a view of becoming a priest for the Diocese of San Jose. But he stayed in Edmonton after a conversation with Smith.

At age 18 months, Hysell fell victim to a meningitis epidemic that struck Michigan in the 1970s.

He was given an experimental vaccine to fight the condition. One of the vaccine's side effects, though, was hearing loss.

"Honestly it is a blessing in disguise that I'm deaf because if I wasn't deaf, I wouldn't be doing this work with the deaf community," he said.