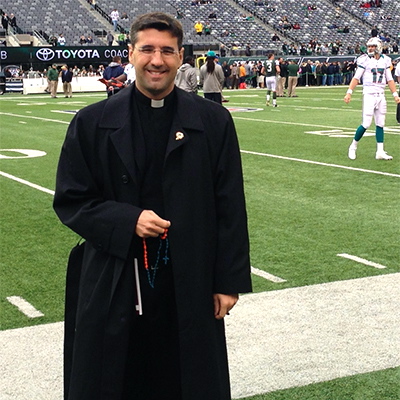 From Florida Catholic: 
It is not his "dream job" — that would be the priesthood, says Father Manny Alvarez. But "this other gig does come in a close second," added the Twitter and Facebook-posting sports fanatic.

Earlier this year, Father Alvarez, ordained in 2001, was asked to be the team chaplain for the Miami Dolphins. He had started last season celebrating Mass at the team hotel the night before home games. This year, at the request of new Dolphins head coach Joe Philbin, Father Alvarez is on the sidelines for every game, home and away.

The native Miamian, who also roots for the Hurricanes, Marlins and Heat, was parochial vicar at St. Gregory the Great in Plantation until Nov. 5, when he was named administrator of Our Lady of Divine Providence in Sweetwater.

Coach Philbin came from the Green Bay Packers, who have had a Catholic chaplain on the sidelines since the days of the great Vince Lombardi. Father Alvarez now is on hand at every game, not only to celebrate Mass but to pray with coaches, players and staff, encouraging their spiritual life and safety. After the game, both teams meet at the 50-yard line, where Father Alvarez leads a prayer of thanksgiving.

Before he accepted the role, he consulted with St. Gregory's pastor, Father Michael "Happy" Hoyer. "I told him of course he needed to be there for them," said Father Hoyer said. "They want him there and he would be bringing the Catholic perspective and presence to the Dolphins. As far as the schedule, we'll work around that."

Then, Father Alvarez wanted the blessing of Archbishop Thomas Wenski, which also was forthcoming. "With Father Manny standing on the sidelines, the team knows that someone is praying for them," the archbishop said, "and the fans are reminded that they can still make the late Sunday evening Mass."

When Father Alvarez began traveling with the team on road games, he began to wonder how he could minister to a professional football team.

"On my first road trip, I felt a bit out of place and I asked a lot of questions of where I needed to be and what I needed to do beyond the celebration of the team Mass," he said. "I still didn't know where I was going to watch the game until I was told: 'Coach wants you on the bench.' I respect Coach Philbin a great deal because as a man of deep faith he knows from experience the impact a priest can have on those around him. I slowly started to recognize why he wanted me around."

Father Alvarez spends quiet time with the players in the locker room; he prays with them and participates in the prayer led by Coach Philbin before each game.