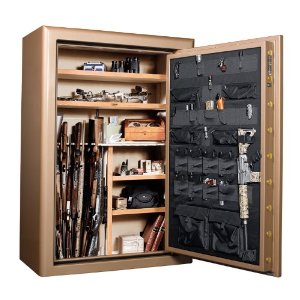 Or close to it.
Behold, what is reputedly the heaviest item that Amazon will ship for free (or, at least, with a $79 membership in Amazon Prime).
"It's really an amazing deal," says Amazon spokeswoman Pia Arthur, even if the heaviest items sometimes have to be handled by "specialty shippers" instead of UPS or FedEx and can't always be delivered within the usual two-day time frame. See Amazon's policy for shipping large items .

So what's the heaviest item Amazon will ship for free? The company declined to say, but the makers of a 1,509-pound safe (shipping weight: 1,672 pounds) claim the prize for biggest bang for one's 79 bucks. See Cannon Safe CO54 Commander Series Premium 90 Minute Fire Safe

These days, if Wile E. Coyote wanted a safe to drop on the Road Runner, he would be better off ordering from Amazon than Acme, which probably charged for shipping.

The Cannon Commander Series 54 is designed by Cannon Safe to hold up to 48 guns, but can also be used to protect jewelry and important documents. It stands 6-feet tall, features a 5.75-inch thick steel door with 13 locking bolts and sells for $3,486.57 on Amazon.

"We charge customers around $700 to ship this safe, but when they buy it through Amazon they get it shipped for free," says Pasquale Murena, marketing manager for Cannon Safe. "As a result, we get orders through Amazon every day." In fact, Amazon will pick up the tab for shipping the safe even for non-Prime members, if they are willing to wait a few extra days for delivery. Like many items priced over $25, it qualifies for "Super Saver Shipping," which usually take five to eight days to arrive.
Think of what you'll save to send this to someone at Christmas.