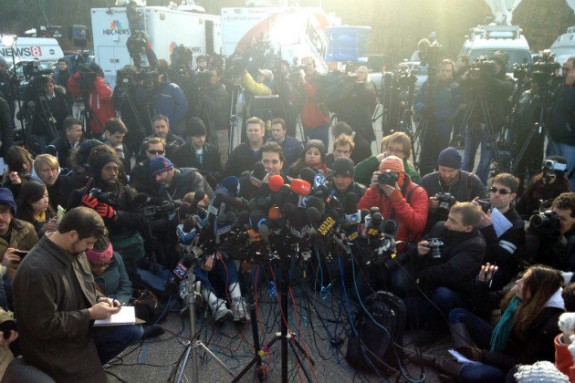 After surveying some of the mistakes in the Times's early coverage of the tragedy, the paper's new public editor gives the coverage a long-overdue thrashing:
On the first day, The Times reported on its Web site that the gunman was Ryan Lanza, attributing that information to other news organizations. It was actually his brother, Adam Lanza. Mistakes don't get much worse.

The next day, in its lead front-page article, The Times got several major facts wrong, stating without attribution that Mr. Lanza was "buzzed in" to the Sandy Hook Elementary School building by its principal, who "recognized him as the son of a colleague."

Not so. He forced his way into the school, dressed in combat gear and carrying guns. There is still no confirmation that his mother, Nancy Lanza, ever worked at the school…

Are mistakes like this inevitable in the hypercompetitive age of social media?…

…Wendy Ruderman, who won a Pulitzer Prize for her police-related reporting when she worked in Philadelphia, was one of many Times reporters on the Newtown story. She told me that the mistakes kept her up at night, and that as the police bureau chief she felt partly responsible for them. The root of the problem, she said, was at least twofold. First, authorities were under intense pressure to give out information without being sure of it themselves. Second, in The Times's rush to keep up with the multitude of news sources, it used some information without independently confirming it or naming the authorities it came from.

In the future, she would prefer that everyone adhere to this rule: "We shouldn't put anything in the paper without a name attached to it." In other words, there would be no reliance on anonymous law enforcement officials.

"We should have a person on the record, and a way to verify what they're saying," Ms. Ruderman said. "And we would take the time to ask enough questions to feel certain."

This would not ensure that errors were not made; that's not possible. But it would guard against and minimize them.

"We should put in only the basic facts we definitely know and build the story from the ground up," she said. "Where we don't know, we can clearly state that in the story."

Named sources. Verification. Transparency. And the willingness to cede the front of the pack. Those practices "would have put us way behind," Ms. Ruderman said. "But our credibility is at stake."

The Times can't get pulled into the maelstrom of Twitter-era news. It has to stand apart from those news sources that are getting information out in a fast, piecemeal and frequently inaccurate way. That process has its own appeal and its own valuable purpose. But The Times should be its authoritative and accurate counterbalance.