"Al lies in ambush in my brain, and the only way I can put a face on him is to look in the mirror."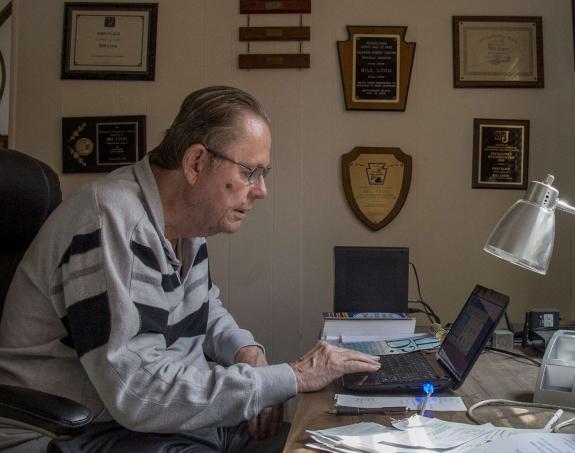 The heart breaks to read this: 
Bill Lyon, a literate, sensitive, and affable Midwesterner who endeared himself to this cynical Northeastern city during more than three decades as a must-read Inquirer sports columnist, died Sunday at the Marple Township facility where he'd resided since 2017.
He was 81 and for the last several years had been afflicted with Alzheimer's and Parkinson's diseases. He had been in hospice since his condition deteriorated several weeks ago.

Though he collected six Pulitzer Prize nominations and more awards than most of the athletes he wrote about in 33 years at The Inquirer, some of Mr. Lyon's most poignant and powerful work came after his 2005 retirement.
Then, in a series of essays, this man who had covered more than 30 championship fights achingly chronicled one more: his own existential battle with Alzheimer's, or "Al."

"Al is an insidious and relentless little bastard, a gutless coward who won't come out and fight," he wrote in 2016. "Instead, he lies in ambush in my brain, and the only way I can put a face on him is to look in the mirror."
"The brilliance of Bill's writing has always been evident, but how courageous he was in his Alzheimer's battle was remarkable," said Fran Dunphy, the longtime Penn and Temple basketball coach.
Mr. Lyon was the rarest of figures in Philadelphia's contentious sports scene, one almost universally admired. No Pollyanna, he wrote candidly about sports and its stars but always without giving offense.
"He could be so very funny when we sat around and discussed various players or coaches or fellow journalists," Inquirer columnist Bob Ford said. "When he wrote, however, he chose to appeal to what Lincoln called `the better angels of our nature.' He wanted his work to lift rather than tear down, and to bend toward optimism rather than pessimism."
And read his columns about his battle here. 
Eternal rest grant unto him, O Lord, and let perpetual light shine upon him…