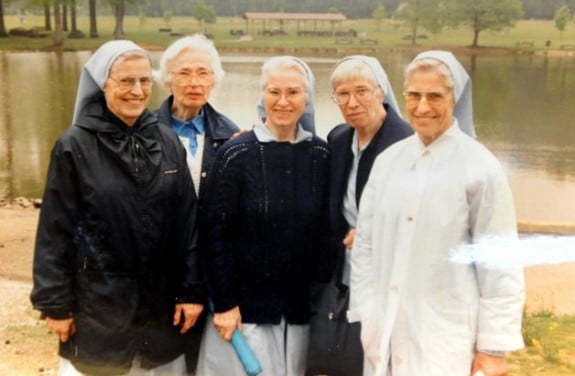 From the Albany Times Union: 
They were Sister sisters who possessed contrasting personalities and were protective of their personal space, but in the end they proved inseparable.

Sisterhood defined Sister Jean Marie Wheeler and Sister Elaine Wheeler — biological sisters, Daughters of Charity nuns and career educators — who were in their 90s and lived together for the past eight years at Saint Louise House here.

They died a day apart last week.

Because their deaths came in such close proximity, the two sisters will be commemorated in a single wake Wednesday and funeral Mass on Thursday, and they will be buried alongside each other in Saint Agnes Cemetery in Menands. It will be the first dual service for the religious community.

"They were remarkable women, very different in their own ways, but also very close," said Sister Joanne Donovan, the Sister Servant, or director, of Saint Louise House, a residence for 40 Daughters of Charity nuns between the ages of 78 and 98.

"We will share many fond memories of their lives," said Sister  Mary Walter Boyle, a resident of Saint Louise House who had lived with Sister Jean in years past. She and the other nuns will join in a tradition of "sharing time," a communal telling of stories and humorous anecdotes after the wake.

The Wheelers grew up in a family with seven siblings, all girls, including identical twins. The growing family moved from Chicago to the Bronx, where the girls were raised. Five entered religious life, one as a Religious of the Sacred Heart nun and four with the Daughters of Charity. The five nuns taught and lived in the Capital Region for much of their careers. Two did not enter the sisterhood, married and had children.

The five nuns vacationed together each summer at a small cottage beside a pond on the Daughters of Charity property off Route 378. They spent the mornings sewing new habits and bathing suits. They went swimming in the afternoon, followed by reading hour. They favored dense political biographies.

"They did everything together and if you met one Wheeler sister, you knew all the Wheeler sisters," Donovan said.
Eternal rest grant unto them, O Lord, and let perpetual light shine upon them…