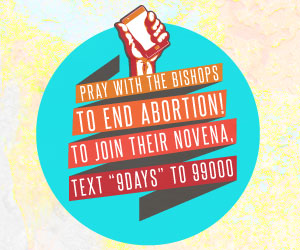 This afternoon, I received an e-mail from a parish in Queens, encouraging me to take part in the March for Life later this month, and it included a link to the international abortion counter.
The what?
It tracks the number of abortions worldwide every second, and continually refreshes. It was modeled on the famous clock in New York City that keeps track of the national debt.  If you thought that was sobering, spend a few minutes watching the abortion counter.  It's chilling.
Wondering what you can do?  Start by clicking the ad to the right, on the side of this blog that says (like the image above) "Pray with the Bishops.:"  It will take you to the USCCB website, which shows you how to sign up for the bishops' novena to end abortion, beginning on January 19.  By signing up, you'll get regular prayers through daily text messages.  What could be easier?
Give it a try.  And soon.  Because, as that clock keeps reminding us…every second counts.