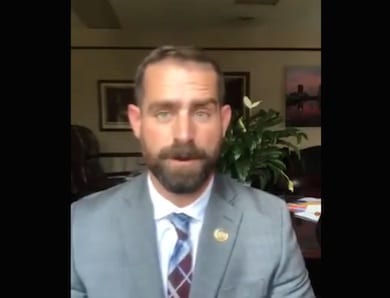 You may remember this story from last spring.
Now, an update:
A Pennsylvanian state lawmaker who offered money in exchange for the identities and other personal information of pro-life activists, including two minors, has apologized to the family, five months after his actions.

Rep. Brian Sims (D-Philadelphia), the subject of an unrelated ethics investigation, wrote a card to the Garecht family of Pennsylvania in late October apologizing for recording them outside of a Planned Parenthood in Philadelphia in mid-April.

Sims had recorded Ashley Garecht, two of her daughters, and one of their friends while the group were praying out the Planned Parenthood clinic in Philadelphia. Sims posted the video on his Twitter account and said that he would pay $100 for information about their identities.

In the video, Sims called the girls "pseudo-Christian protestors" who were "shaming young girls." In other videos published later, Sims can be seen shouting at an elderly woman who is praying outside the same clinic on a different day. When pro-life group Live Action tweeted the post, he responded by saying the organization, founded and run by women, were "misogynists."

"Bring it, Bible Bullies! You are bigots, sexists, and misogynists and I see right through your fake morals and broken values," he said in May in response to Live Acton's tweet. In the following weeks, Sims continued to tweet pro-abortion rhetoric and defend his actions.

Joe Garecht, whose wife Ashley was targeted by Sims, told the Washington Examiner that Sims had finally apologized months after the fact, and had sent the family a handwritten note. Previously, Sims had only apologized to Planned Parenthood, offering his regrets that his attempt to dox teenage girls had reflected poorly on the abortion provider.

"Rep. Sims sent a short handwritten note, apologizing for his actions. We take him at his word, and we have already forgiven him," said Garecht to the Washington Examiner on Tuesday.