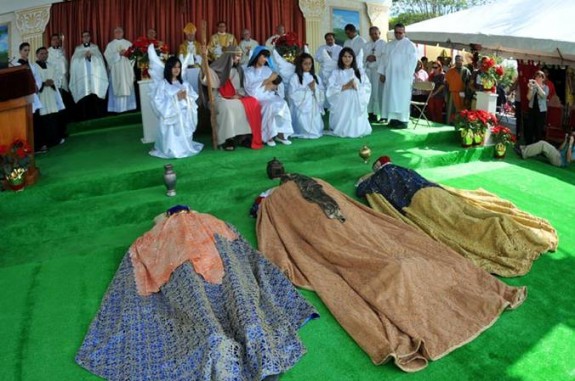 A friend in Florida sent me the picture above just before Christmas, with this explanation:
Juana Diaz is a little town on the south coast of the island of Puerto Rico, next to my home city of Ponce. In 1884 an Spanish priest started something like a Medieval Epiphany play. The entire town (literally) participated as shepherds (people of all ages dressed up). Since then they have been reenacting it with music. Starts with a procession coming from the different neighborhoods into the center of town, the square in front of the Catholic Church. A Pontifical Mass celebrated by the Bishop of the Diocese of Ponce. Includes a dramatic dialogue that begins with the prophets of the Old Testament announcing the Messiah and ends with the Wise Men presenting Him to all. The faithful tradition continues even today – a theatrical catechesis!
You can read more and see additional pictures here.