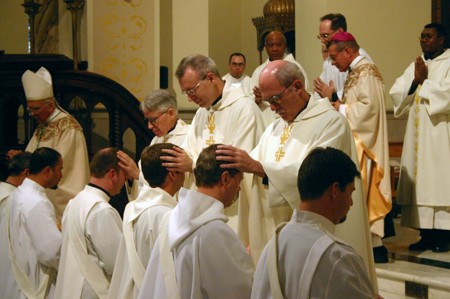 With a new married priest in Buffalo getting so much buzz, I was intrigued by this item, which moved on Zenit two days ago:
Why can't priests marry? It's a question people often ask and the requirement of celibacy has also been blamed as one of the causes of sexual abuse by priests.

A recently published translation of an Italian book addresses the topic in a question and answer format, "Married Priests? Thirty Crucial Questions about Celibacy" (Ignatius Press). It is edited by Arturo Cattaneo, with contributions from a wide variety of scholars.

We are faced with a great educational challenge in explaining the Church's teaching on priestly celibacy, admitted Cardinal Mauro Piacenza, prefect of the Congregation for the Clergy.

He likened celibacy to marriage. "The underlying logic of priestly celibacy is the same one we encounter in Christian matrimony: the total gift of everything forever in love."

From the historical aspect the book noted that Christ chose celibacy for himself even though among the Jews this state of life was seen as a humiliation. He did not generate children physically but loved his disciples as brethren and shared a common life with them.

Jesus' way of communicating life was not through physical generation but spiritual. Therefore the celibacy of those who follow Jesus in the priesthood must be understood in the perspective of this spiritual transmission of eternal life.
I was especially struck by this passage, which may raise a few eyebrows among my diaconal brothers:
Why not allow married priests in order to attract more vocations? This, the book observed, is one of the most frequent arguments regarding celibacy. There is no evidence, however, "that requiring less of candidates to the priesthood leads to increased numbers of them," the answer replied.
You can read the whole thing
here. 
Well.  Okay.  I will give the author the benefit of the doubt and assume that something was lost in translation.
Did they really mean to state that being a married member of clergy "requires less" of a man?  That it's somehow easier?  I think our Eastern rite priests might beg to differ. They have a long and venerable tradition that, in one smug phrase, is being dismissed as somehow inferior.  Meantime, one Latin rite deacon who read that passage responded succinctly: "As a married deacon with five children between the ages of 4 months and 11 years, I take exception to the idea of 'requiring less.' When Father has to worry about a house payment and putting food on the table, we'll talk."  Another deacon noted that the article conflates a discipline (celibacy) with a sacrament (marriage), which among other things is just bad theology.
The fact is, all vocations make demands.  All require more—more time, more sacrifice, more selflessness, more surrender, more challenges than most people could possibly imagine.
Finally, I'll jut add this: in the United States, a vocation involving married clergy is the only one that has shown growth in numbers over the last several years.
Whatever else people may say about the diaconate, I can tell you that it hasn't grown because it is so easy, and it hasn't flourished because it has required less.