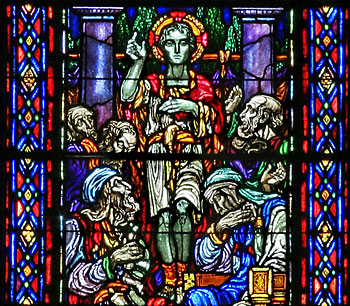 And they're beauties, as the sample above shows.
The Catholic Diocese of Raleigh has purchased 42  stained glass windows for the new Holy Name of Jesus Cathedral.

The Diocese has received more than $52 million in pledges so far, it said Wednesday. The majority of the windows were created by Paula Balano, who became the first woman to open her own stained glass studio in the United States in 1925. They came to Raleigh from a Philadelphia church.

The Diocese plans a 2,000-seat cathedral that will cost $75 million to $90 million.
The diocesan website has more details about the building project:
The conceptual design includes the Cathedral, a two-story Gathering Hall and a three-story ground level and below-ground parking facility. To date, the planned project has received $15 million in pledges from a small group of donors in a short period of time. (Please note: Since the project is in the conceptual stage, changes could occur in design and cost.)

The proposed Cathedral Campus will be located on a 39-acre tract of land adjacent to Western Boulevard and Centennial Parkway that has historical significance for the Catholic Church in North Carolina. The property is what remains of 400 acres purchased in 1897 by Father Thomas F. Price, the "Tar Heel Apostle" and first native North Carolinian to be ordained a Catholic priest. In 1899, Father Price established an orphanage on the site known as the "Nazareth Community." The site currently houses the Catholic Center administration building and a smaller building, formerly part of the old Cardinal Gibbons High School, which serves as the Diocesan Tribunal Office.

The title to the new Cathedral, Holy Name of Jesus Cathedral, commemorates the name of the chapel established by Father Price at Nazareth.

The need for a new Cathedral is prompted, in large part, by the continuing vibrant growth of the Catholic population throughout the Diocese. In the ten-year period between 2000 and 2010, the Catholic population in the 54-county Diocese has increased approximately 42 percent from 152,493 to 217,125 registered Catholics, with an estimated 200,000 plus unregistered Catholics, mostly of Hispanic origin. With a seating capacity of 320, Sacred Heart Cathedral, as the "Mother Church" of the Diocese, is unable to accommodate most of the Diocesan liturgical celebrations.
The diocese hopes to break ground later this year.  One image for the design is below.  You can see more at the Diocese of Raleigh website.