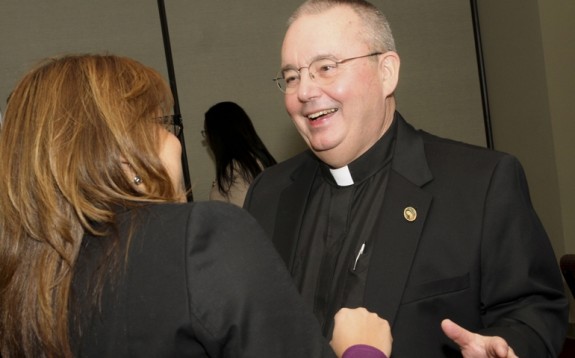 He's got quite an unusual background—and was influenced by the writings of Thomas Merton :
Msgr. David Talley, a former Southern Baptist who became a Catholic at the age of 24 and has served at various archdiocesan parishes, has been named by Pope Benedict XVI as an auxiliary bishop of the Archdiocese of Atlanta.

At a press conference in Atlanta, Archbishop Wilton Gregory called the bishop-designate "one of our finest priests."

Talley, 62, said he will "hope to give my whole heart" in his new ministry. He said he will "assist in shepherding the people" with Atlanta Auxiliary Bishop Luis Zarama and the archbishop. "One more worker," the new bishop-designate said.

"It's all new. What an understatement," said Talley, who wore a pin of Our Lady of Guadalupe on his lapel…

…One of his roles in the archdiocese is as chaplain to the disabilities ministry. His experience ministering among people with disabilities is key to his spiritual life, he said.

"All they can do is ask the Lord for help. That simplicity and humility is where I think the church should be-humble before God," he said.

Talley was raised as a Southern Baptist, but said he left the practice of his faith and organized religion as a teen. At Auburn University he met Catholics and read the writings of Thomas Merton, which led him to become Catholic, he said. He was 24 when he joined St. Mary Church in Opelika, Ala.

Family members remain faithful Baptists, including a brother who is a deacon. That background gives him a broad view, he said. "I do know a faith across the spectrum," he said.

He also did graduate studies at the University of Georgia. For a time before entering the seminary, Tally was a caseworker in the Fulton County child abuse investigation and protection office. He studied at St. Meinrad Seminary in St. Meinrad, Ind.
UPDATE: Rocco has this choice nugget about the new bishop's present parish and its deacons:
Having led the building of a 900-seat, 36,000 square-foot church for the 2,500-family flock of his last pastorate, in 2011 Talley was sent to the even more massive St Brigid's in Johns Creek, home to nearly 5,000 families and – so the parish website says – no less than seven permanent deacons. The page likewise features a full archive of Talley'sweekly bulletin columns, which chronicle all the "happy problems" of a church busting at the seams.