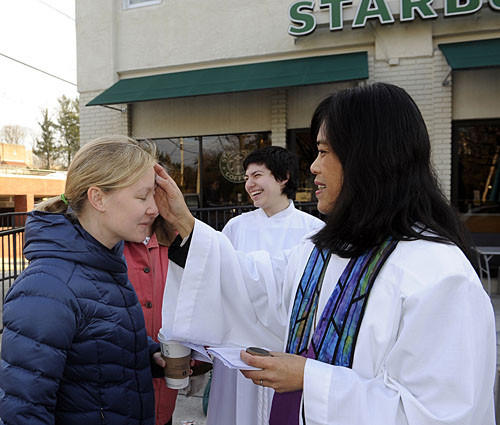 An interesting glimpse at how our Episcopalian siblings marked the beginning of Lent—and their foreheads—in Maryland, from the Baltimore Sun:
Leta Dunham got her breakfast order to go at a Roland Avenue Starbucks Wednesday morning: a grande triple skim latte in her cup and, on her forehead, an ashen reminder that we are all destined to become dust.

Dunham was among Ash Wednesday observers who took advantage of Ashes to Go, a service offered by area Episcopal and Methodist churches at more than a dozen spots around the city and nearby counties, part of a national movement that began with an Episcopal church in St. Louis in 2007. The practice seeks to bring theLenten season ritual to the people, rather than waiting for them to come to church.

"It's a little more convenient, but why not?" said Dunham, who stopped by the Starbucks at Roland and Deepdene at about 8 a.m. — first for the latte, then for the ashes imposed by the Rev. M. Cristina Paglinauan, associate rector of the Church of the Redeemer in Homeland.

Dunham, who stopped by with her 3-year-old son, Beckett, said she would normally attend church to observe Ash Wednesday, but she and her family recently moved to the area from Silver Spring and are still searching for a congregation.

Wearing a white surplice and purple stole, Paglinauan stood outside Starbucks for about an hour Wednesday with Emily Perper, an intern with the Episcopal Service Corps, asking passers-by if they would like to receive ashes. She held in her left hand a small container of crushed palm ashes, an ancient symbol of penitence.

"I'm not pushing them on people," said Paglinauan, who last year performed the rite for the first time outside Atwater's restaurant inBelvedere Square. She said some people don't look up, some politely decline. She remembered one person last year begging off with "No, thank you, I'm actually Jewish."

The pastors outside light rail stops, Penn Station, coffee shops, pubs, wine stores and churches were not inclined to check religious denominations. The ritual — marking the beginning of the 40-day season of Lent that culminates in the celebration of Jesus Christ's death and resurrection on Easter Sunday — is observed chiefly in Catholic and Episcopal churches, though some Lutheran congregations and other Protestant denominations also take part.

In the Episcopal Diocese of Maryland, Ashes to Go started in 2011 with Epiphany Episcopal Church in Timonium. Last year eight churches took part, and this year there were at least nine, said Sharon Tillman, a spokeswoman for the diocese.

"I think, in many ways, this is a recovery of something that's really old," said Lindh-Payne, referring to Jesus and his disciples spreading the word in the streets, marketplaces and on hillsides. "They were where the people were."

No Roman Catholic churches in the area were taking part, said Sean Caine, spokesman for the Archdiocese of Baltimore. He said the church believes the ritual should takes place in the context of a Mass.
I'm not sure about that last line.  Some of us in New York can remember when the Archdiocese used to do something similar; about 20 years ago, Cardinal John O'Connor dispatched priests and seminarians to Penn Station and Grand Central Station to greet commuters, who could get dabbed with ashes on their way to work.  I know of a few churches in the city that still stay open all day and have people standing by between Masses, armed with small jars; folks can run in between Masses, get their ashes, then head back to the office.  In my own parish, people customarily drop by at all hours to ring the rectory bell and ask for ashes. And it's not uncommon to deliver them to people who can't get to church. I spent part of Ash Wednesday visiting the local police precinct with my pastor and another priest; we led two brief prayer services and distributed ashes.  When the guys at the firehouse found out, they showed up at the police station, too.