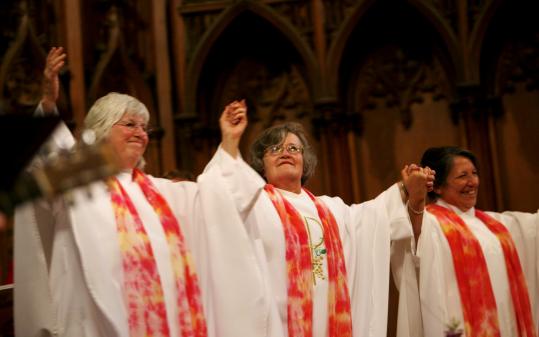 California blogger Marissa Nichols writes of a surprising encounter she had not long ago with the woman who spoke those words:
First, to her credit, she was participating in 40 Days for Life.  How rare or cool is that?  I thought all "women priests" despised Paul the VI's Humanae Vitae and were all for "choice" (at least, if they were anything like the Leadership Conference for Women Religious's higher ups whom I've often opined to be on the same level.)

At first, unsure why she was wearing a Roman collar, I innocently asked, "Oh, are you a minister somewhere?" expecting a response of the yes, Episcopalian, variety.

"I am a Catholic priest." She declared.  My response: shock, silence.

When she saw I wasn't responding, she softened and added, "It's a long story."  I have no doubt it is…and I could probably tell most of it to her…< ...I'm sure some spiritual director somewhere confirmed that she did have a vocation to the all-male priesthood (that's usually all it takes).  Then, she networked with likeminded, identically spiritually counseled women championing the "reforms of Vatican II," and the rest is history.

Here's the cool thing though, and I can't come back to this enough: she was praying for an end to abortion.  She was very kind, though clearly confounded, as I had been.  And she had an obvious zeal for justice and love for Our Lord. Speaking with her helped me be less condescending to those like her whose hearts are clearly in the right place but whose actions are the fruits of both being misled and, perhaps, influenced by their own personal disdain for Church teaching.

Our conversation together, mostly about the evil of abortion, helped me see that, beneath her Roman collar, was a good woman with a strong, passionate desire to change the world. Now, you might be wondering, as I still am, why, if she truly wanted to change the world for the better, end abortion, and have a ministry distributing hospital supplies in Peru (which she apparently already has), why not just do the same while living in accordance with the Church? Is there any reason she couldn't pray and minister to others as a lay woman and not be equally, if not more effective in reaching more hearts and converting all to the Gospel of Christ? The answer is: yes, of course she could.  But she's chosen not to.