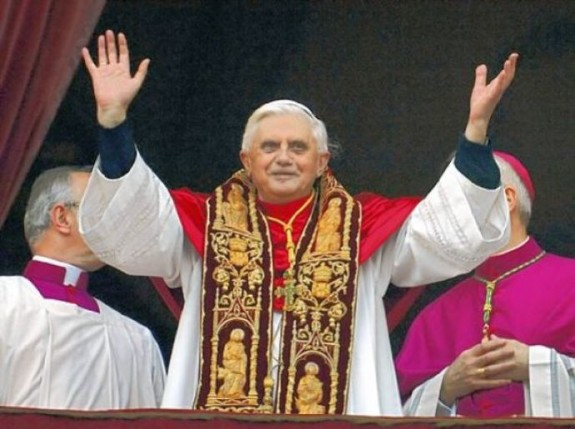 A comprehensive and interesting roundup of reaction to Benedict's resignation, from the terrific Ann Rogers in Pittsburgh:
Pope Benedict XVI, the German pope who some feared would spend his pontificate scourging liberal Roman Catholics, focused on preaching about God's love.
"His greatest legacy is his spiritual hunger and thirst to bring people closer to God," said Bishop David Zubik of Pittsburgh.

But it's how he ended his papacy, as the first pope in 600 years to resign, that is guaranteed to make the history books.

"In one fell swoop, he brought the papacy into the modern world. It was a very courageous act that has probably been needed for a long time," said John Thavis, the former Vatican bureau chief of Catholic News Service and author of "The Vatican Diaries: A Behind-the-Scenes Look at the Power, Personalities and Politics at the Heart of the Catholic Church," which will be published this week.

"A very tradition-minded pope made a very untraditional decision."

He is an introvert who followed the 26-year reign of an extrovert who had redefined the papacy. Elected at 78, Cardinal Joseph Ratzinger, who had presided over the Vatican's doctrinal office for 24 years, didn't expect a long papacy. He set out to build on the call of Pope John Paul II for a "new evangelization" that would appeal to secularized Westerners who were abandoning the faith. But his intended messages often were overshadowed by world-shaking gaffes, such as an unvetted speech on faith and reason in 2006 that triggered rioting in parts of the Muslim world.

He did far more than his predecessor to root out priests who had molested minors, but he is blamed for not forcing out bishops who had protected predators. He surprised many people, however, by looking beyond ecclesiastical matters to become an outspoken advocate of justice for the poor.

Born nearly 86 years ago in Germany, he is the son of a police officer whose anti-Nazi views caused difficulties for the family. Forced by authorities to join the Hitler Youth, the future pope dodged meetings and at age 12 entered a minor seminary. In 2006, he said he chose priesthood to confront an "anti-human culture" that had rejected God…

…At his inaugural Mass, he proclaimed what had become clear at Pope John Paul's funeral, when millions of young Catholics poured into Rome.

"The church is alive!" he told the cheering crowd of 350,000 people. "And the church is young!"

He set out to keep it that way.

His first encyclical, "Deus Caritas Est" or "God is Love," drew high praise from even the most liberal wing of the church.

"One of his greatest legacies is his first encyclical, on love. It's one of the few encyclicals I can actually quote in Sunday homilies, and people understand it," said the Rev. Louis Vallone, pastor of two parishes in the McKees Rocks area.

Pope Benedict "refined Pope John Paul's and the [Second Vatican] Council's desire to put Christ and the foundational doctrines of the church back at the center of Christian life," said Michael Sean Winters, a journalist at the liberal National Catholic Reporter.