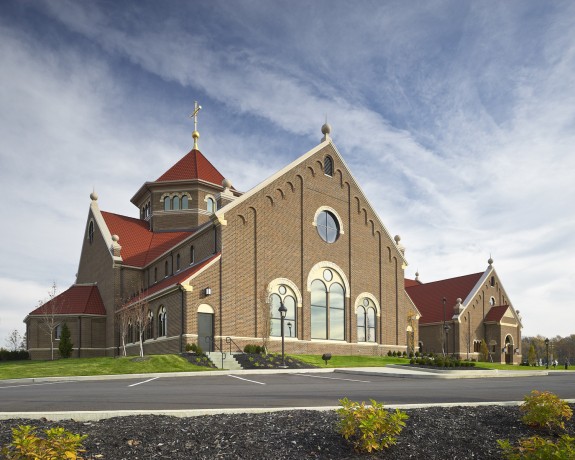 From the Columbus Dispatch: 
When planners asked St. Paul the Apostle parishioners what they wanted in a new church, their preference was clear: a return to the traditional.

The Romanesque-style Catholic church in Westerville, with its arches and columns, cross-shaped floor plan and Jerusalem stone throughout, filled the bill.

The church received some help achieving the centuries-old look with stained-glass windows, statues and other items harvested from parishes closed by the Cleveland diocese starting in 2009.

The Rev. Charles Klinger, pastor at St. Paul, said he felt like a "kid in a candy shop" when he visited a warehouse where the items were displayed, but he also felt the sadness of the lost churches.

"We feel that it is basically a trust that we have been given to keep these treasures from those churches, which were really beautiful and nurtured people spiritually for a long time," he said. " We hope that that nurturing can continue to happen here."

The church has 164 windows and hopes to fill them all with a combination of glass that's about 100 years old and new glass designed to complement the pieces, said Helmut Naunheimer, the St. Paul development director. He said he expects about 65 percent of the glass will come from the closed churches.

St. Paul represents a trend: Over the past 10 to 15 years, Catholic-church architecture has returned to the traditional and conservative, said David Meleca, president of the Downtown-based Meleca Architecture. Churches also are getting bigger, typically seating about 1,000 people, as congregations close and consolidate and a declining number of priests offer fewer Masses.

The average Catholic wants a church with marble, mosaics, stained glass, saints and symbols, a desire in contrast to the high-modernism of the 1960s and '70s, said Denis McNamara of the Liturgical Institute of the University of St. Mary of the Lake/Mundelein Seminary in Illinois.

In the late 1980s and '90s, people started asking why churches looked like "an airplane hangar or a Pizza Hut," leading to a return to the classical, McNamara said.

"A church building is not just an auditorium or a meetinghouse, but it is the combination of art and architecture to render present to the congregation what their heavenly future will look like," he said. "Intuitively, we know church is supposed to be this foretaste of heaven."
Read it all.  Below is a video of the windows project.  And you can visit the parish website for more glimpses at the work underway.