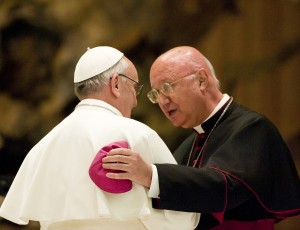 The President of the Pontifical Council for Social Communications, Archbishop Claudio Maria Celli, spoke words of greeting to Pope Francis in the name of the more than 5 thousand media professionals gathered for a special audience with communicators on Saturday morning in the Paul VI Hall:

"Once again the media have played a positive role helping the wider public to be close to the events of these days. The world has watched with great interest, concern and hope. The freedom and the autonomy of those who work in the media, their professionalism and their human and intellectual passion have served to tell the story and the historical happenings through which we have lived. The diversity of the media professionals with their different approaches and priorities coming as they do from different cultures and contexts add to the richness of our understanding of the significance of this reality."
I had the good fortune of meeting the archbishop last summer at the Catholic Media Conference in Indianapolis. He gets around. A favorite memory: serving Mass that he concelebrated with several other bishops. Exchanging the Sign of Peace, he turned to me, clasped my hand warmly and beamed. "Peace to you —and to all deacons!," he said with a smile.