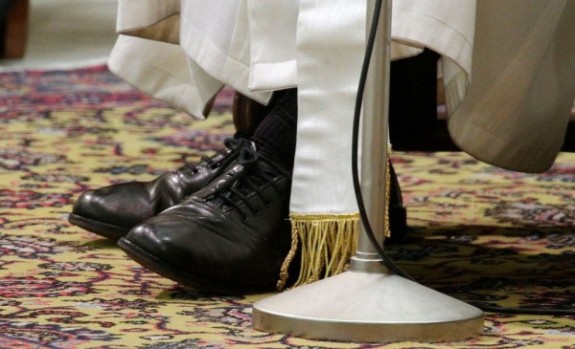 As we watch the historic papacy of Francis begin to unfold, and read about his choices and habits and preferences, it occurs to me that all of this, just like the resignation of his predecessor, amounts to a teachable moment.  Francis is showing us something vital and necessary, if only we are willing to see.
When Benedict renounced the papacy at the beginning of Lent, I preached about how he was teaching us, quite powerfully, that life is sometimes about letting go:
Maybe we think we know what Lent is about: fasting, alms-giving, prayer. And, of course, a sense of finality. We begin it all with these grey-black reminders on our brows. The ashes tell anyone who sees us: "We are sinners. We are human. We are dust." Those ashes are the great equalizer. No matter who you are, no matter what you do, no matter how much you make…you are dust.

No matter what awards you win or honors you achieve, however beautiful you may be…you are dust.

We are dust. Every one of us. These ashes proclaim that to the world—and declare that the great work of Lent has begun.

They are a mark of our humanity—and, significantly, our humility. Which is why what Pope Benedict did this week may be the ultimate lesson for Lent.

It is a lesson in letting go.

A man who has, arguably, the most important job in the world is letting it go. In our modern age, that is almost unthinkable.

We are used to climbing the ladder and enjoying the view. We're taught to work for the best office in the building and the best seat at the table. We strive to get, to own, to possess, to control. We're used to holding on.

We're not used to letting go.

But Benedict is saying: "It's okay. Let go." Know when it is time to let someone else lead. Know when it's time to follow. Let go.

To borrow a phrase from the recovery movement: let go…and let God.

How many of us have trouble with that?  Over the next 40 days, we need to take a hard look at those things in our lives that we are holding onto.

This Lent, don't give them up. Let them go.
Pope Francis, I think, is teaching something strikingly similar: life is not about what we have, but who we are.
Our faith isn't about what we wear, but how we live. How can we live that best?  What do we need to evangelize, to save souls, to uplift hearts?  And, alternatively, what don't we need?  What is getting in the way?
Based on his lived experience, he may be trying to show us: there is as much beauty and wonder and sanctity among the poor who pray in a shanty as there is among the ermine-vested clerics who kneel in a marble basilica.  Pope Francis is asking us, challenging us, to see that.
Yes, as a few people have noted: there is much to be to be cherished in the ancient beauty and traditions of the liturgy we love, in the devotions we practice, in the languages we offer before God in prayer. This is our heritage and our legacy and all that, together, does draw us closer to a sense of the eternal.
But: just as Benedict began our Lent with a lesson in letting go, Francis is closing this penitential season with one about stripping bare—getting back to basics.
Maybe these two popes aren't as different as some think – and will serve, together, as the two great teachers of the New Evangelization.