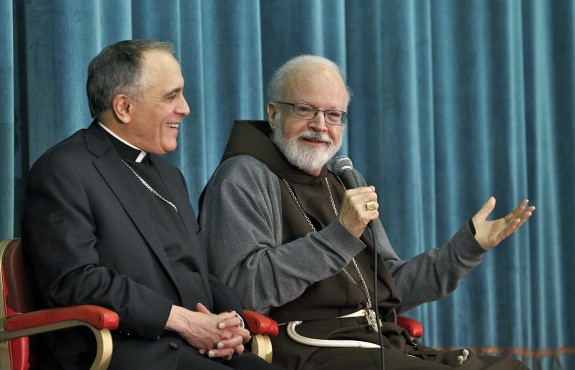 From the indispensable John Thavis:
U.S. cardinals abruptly canceled their planned briefing today, and no further briefings were scheduled.

Sister Mary Ann Walsh, who had coordinated the U.S. press encounters, said in an email: "Concern was expressed in the General Congregation about leaks of confidential proceedings reportedin Italian newspapers. As a precaution, the cardinals have agreed not to do interviews."

In other words, because some anonymous cardinals fed Italian reporters a few details about their discussions, a gag order now applies to all the cardinals.

The U.S. briefings, which typically featured two American cardinals fielding questions in 30-minute sessions, had become a welcome daily ritual for journalists in Rome who are trying to cover the pre-conclave meetings that began this week.

It should be noted that the U.S. cardinals, like all the rest, have taken an oath to maintain secrecy regarding conclave matters. But they have given reporters at least an outline of the discussions, if not precise content, and have been willing to answer general questions on issues not directly related to the conclave.

It's more than a little ironic that the Americans, who have been candid about the limits on what they could say even as they met the press, are now forced to retreat behind a wall of silence.
Read the rest. And bookmark Thavis's blog. It's must-reading for all things papal these days.
Photo: CNS